POV
Retail Portfolio Strategy
---
Prototypes are dead. Long live the portfolio strategy. The world is changing too rapidly for a standard set of small, medium and large stores to fit such a complex retail environment. Today, retailers have the following considerations: showroom stores, fulfillment centers, flagships, temporary retail, pop-ups. It's time for retailers and restaurants to embrace a flexible, holistic approach to brand experience and physical location development.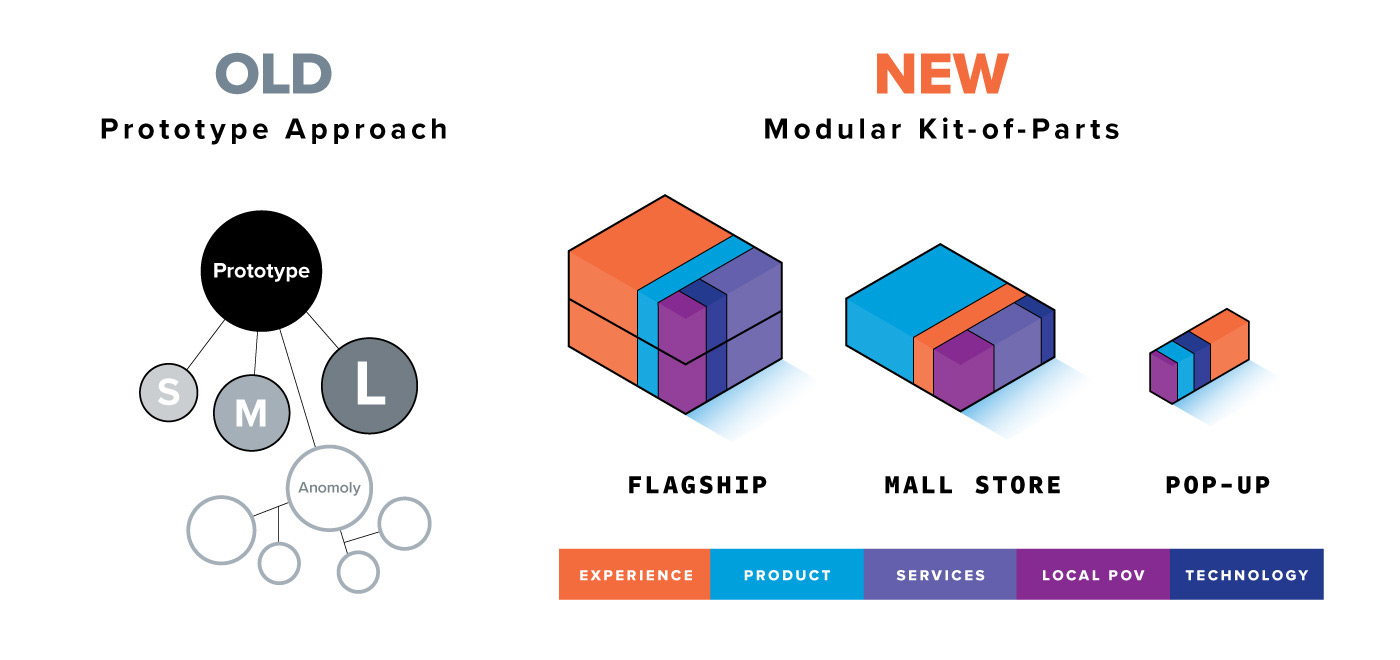 WD's version of the Retail Portfolio Strategy is a flexible set of modules to help brands create a strategically designed system of integrated parts and operations, with both customers and brand in mind. Here are the modules:
Product innovation is hard to pinpoint through all the noise, but it's everywhere, from customizable products and unexpected collaborations to dynamic assortments to custom-packed subscription boxes. From "smart" everything to material innovation.
Experiential retail takes on a lot of different flavors. Those who are doing it well understand the value of connecting like-minded people in an environment that allows for trial and refinement, resulting in a very real opportunity to bring new customers into their ecosystem.
Distribution Logistics – Chains must reconfigure stores with all customers in mind: set up a clear process for BOPIS, allow for curbside delivery, or other inventive ways of fulfilling orders on-demand and provide easy and accessible ways for returns, whether in clicks or bricks.
Localization and its discontents: One-design-for-all is a retail relic at a time when consumers are more individualistic than ever before. Brands must adapt to urban, suburban and rural settings and be culturally relevant to their stores' unique customer sets.
Omni-technology offers a path forward for retail transformation. Many brands have already invested in integrating systems to encompass a single-view-of-customer, single-view-of-inventory, multichannel attribution, loyalty & rewards programs and mobile app optimization with the ultimate goal of delivering sharper personalization.
Value-added Services are an edge for some retailers, as they look to stay top-of-mind with their fidgety and on- the-run customers. Many are relying on value-added services to drive traffic and service engagement in new, unexpected, yet hyper-relevant ways.
Though it may seem complicated, a data-driven Retail Portfolio Strategy can actually save money, considering every store does not have to offer every service/product that your brand offers. Check out our 21st Century Store white paper for even more Retail Portfolio Strategy details. Are you ready to revolutionize your portfolio? Contact us at TalkWithUs@wdpartners.com.
Share
Back to What We Think

More from WD