Wayfind Issue 23
The Store of the Future Creates Omni-Encounters
---
This shift represents a new era of possibility for in-store marketing. For starters, the once highly perceptible divisions among the many separate channels of retail commerce—catalog, online, social media, traditional store, etc., — are being erased.
This is a good change—one overdue, in fact. The false "channel" divides have long been a hindrance to innovation. For example, even though we've found consistently in our ongoing research into unmet shopper desires, young people consider online peer reviews one of the best things about shopping virtually.
In this Issue
---
---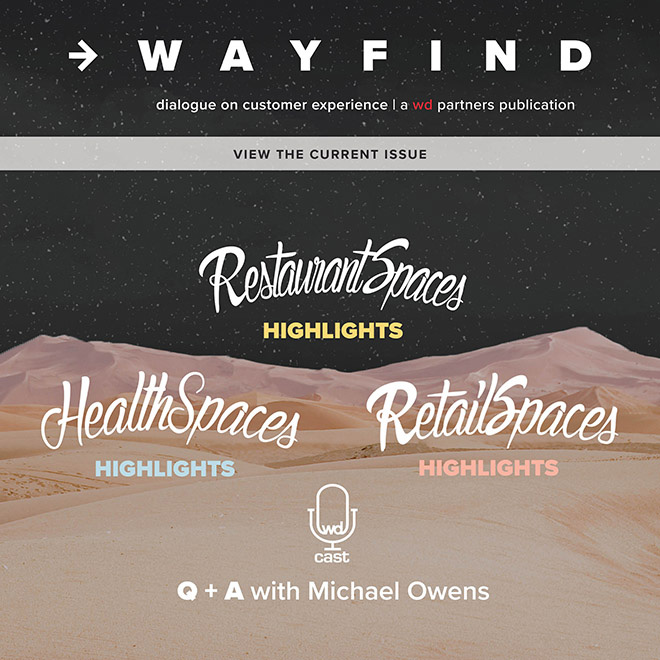 Sign up to get trends and insights from the best thinkers at WD delivered direct to your inbox. Don't worry, we won't SPAM you, Wayfind is only released six times per year.
Subscribe today

Share
Back to What We Think

More from WD
EY, Marcie Merriman; The Ship Has Left the Station

There is no going back from the role technology plays in our life. In fact with the launch of 5G technology we will be able to access content, websites, conversations, etc. 100x faster than what we have now.

WDCast

WD Partners, Chris Doerschlag; Leave the Ego at the Door

The man, the myth, the legend. We may be biased, but our special guest this week is our own CEO Chris Doerschlag. Leader of over 400 people, architect by trade, father to 8 kids, son of 2 immigrants, music junkie, and a creative wizard in the kitchen.

WDCast

Digital First – Why It's Essential

Issue 47: Given the recent past, understand this; "Digital First" is not a buzz term. It's an edict. It's not a website, a department or even eCom. Digital First is how the customer thinks, and subsequently, it must also be how we think. Now. Today.

Wayfind