Wayfind Issue 45
The Store of the Future is Not a Store
---
The phrase "the foreseeable future" has taken on a whole new meaning these days. And while no one can predict the future, you can make moves now to prepare for what might come.
In this issue, we share new customer research, trends, and recommendations to drive your business forward.
In this Issue
---
---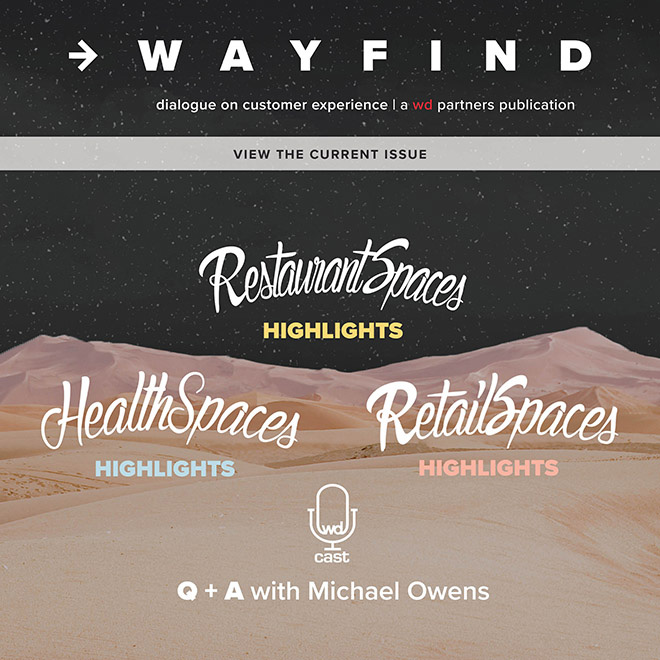 Sign up to get trends and insights from the best thinkers at WD delivered direct to your inbox. Don't worry, we won't SPAM you, Wayfind is only released six times per year.
Subscribe today

Share
Back to What We Think

More from WD
Digital First – Why It's Essential

Given the recent past, understand this; "Digital First" is not a buzz term. It's an edict. It's not a website, a department or even eCom. Digital First is how the customer thinks, and subsequently, it must also be how we think. Now. Today.

Point of View

Retail Futurist & Former Nike Exec, Toby Barnes: Brit-and-Mortar Retail Part 2

We pick up where we left off from our previous episode with Toby Barnes (yes, there was a part 1 episode and yes, you should definitely go back and listen to it if you haven't already) and Lee Peterson as they discuss the future of retail.

WDCast

Founder and CEO of Health In Motion Network, Brian Slusser: Humanizing Healthcare

As consumers have grown accustomed to receiving products at the speed of light, when and how they want it, the question becomes... how does this translate to healthcare?

WDCast