RestaurantSpaces 2021
---
Estimated Read Time: 1 - 2 Minutes
---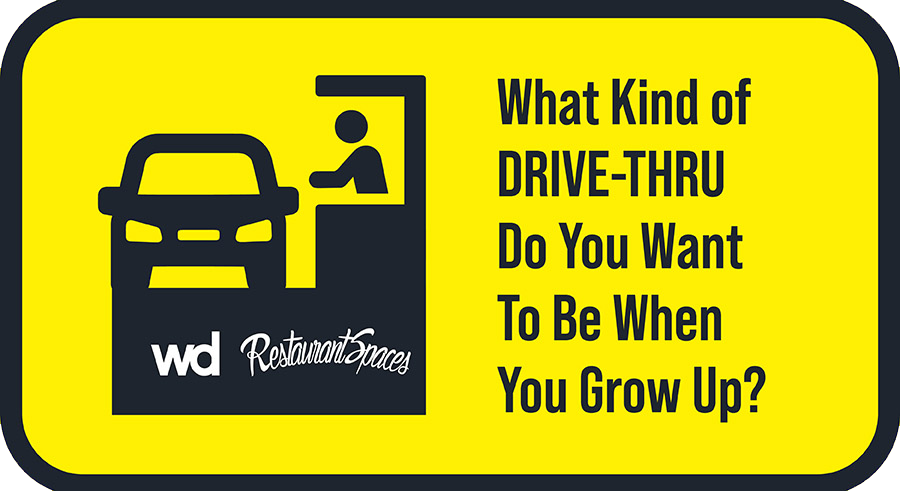 Every fast food restaurant understands the importance of having a drive through, usually to the tune of about 70% of a unit's volume. 70%. That's a lot, but in many cases, a low number. Also, that high stat was prevalent before 2020. Other restaurants, in particular fast casual, demurred at the idea of a drive through, saying it was symbolic of "fast food" and its culture, which they were trying to avoid. Full service providers, to some degree, always had carry out, but nothing even close to the through-put and scale of either of the aforementioned.
Then the food hit the proverbial fan: 2020.
Since then, all bets are off. The consumer had to use the drive through and, we should also point out, their delivery person had to use that service as well. There was no choice. Do or die. And thus, as necessity is always the mother of invention, a new burning platform was born. The rush to add pick up and delivery modes for survival, sometimes with straight up band-aid styling, became a must have. And so here we are, in the midst of a pick up and delivery add-on bonanza, exacerbated by the new consumer imperative of "bring it to me, now!", which did not wane, even after dining rooms re-opened.
So we decided to do a study and ask consumers, "what drive in design do you prefer?" We showed multiple designs and even some dark kitchen versions and had them rate the concepts using scale methodology (1-5, 5 = best). What the consumer said about drive throughs was a surprise, even to us, and since we've been working with all modes of food service for decades, that's saying something!
Here's an example: what % of 'top 2 boxes' did thousands of consumers give walk up / pick up windows?
24%
Boom. Yeah, not good. But why?
Please join us at RestaurantSpaces on October 17th – 19th to get that answer and many more. We will say this; pick up and drive through is definitely a necessity and here to stay… but from a consumer point of view, that's a solid duh.
Subscribe to Wayfind
---
Sign up to get trends and insights from the best thinkers at WD delivered direct to your inbox.
Refer a Friend
Use this link to refer a friend to Wayfind
---
Share on Social
Share Wayfind on your social networks
Back to Wayfind

More from WD