White Paper
The One-Click Store of the Future and The DNA of the Digital Native Audience (DNA)
---
Why the Reinvention of Checkout Is the Future of the Store for the DNA
Retailers may not want to admit it, but shoppers are done waiting—stores can't wait any longer to reinvent checkout. It's time to deliver the convenience of one-click buying online inside the store. Disruptive checkout technologies allow stores to finally deliver the personalized, instant gratification experience consumers want.
The traditional store checkout model, has been largely unchanged for over a century, and is an anachronism, destined for the dustbin of retail design history. WD's proprietary research shows retail designers how these fundamental changes upend traditional store formats, and can revolutionize the retail experience. Space devoted for decades to the endless, mind-numbing design conformity of minimally-manned register lines is finally being freed to create more emotionally satisfying experiences for shoppers.
This report has more than that, it has additional content detailing how the DNA is a population like no other before it, who thinks digitally, shops digitally and lives digitally.
WD shares exclusive results from a national consumer study of more than 1,500 shoppers. Results also include insights gleaned from qualitative, in-depth focus groups. Learn what consumers (especially the DNA) prefer most among 12 different checkout scenarios, from traditional (tedious) options to the newest checkout concepts. The reinvention of checkout is a main component of the store in the future.
---
Watch the presentation on the DNA of the DNA – as seen at NRF 2017 and featured on Retail Dive
---
We've talked to more than 20,000 consumers and published over a dozen white papers on the future of retail and customer experience. Want to know what it means for your brand? Call us at
888.335.0014
or email us at
TalkWithUs@wdpartners.com
.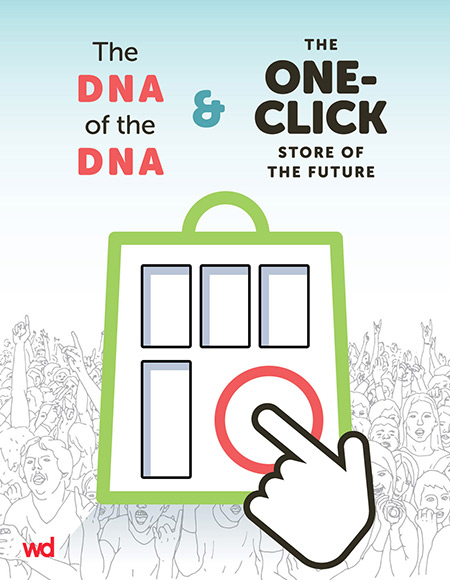 Purchase the study: $100 (plus tax)
Buy Now
Get the Teaser

Get the Presentation

Share
Back to What We Think

More from WD
WD Partners, Joanne Heyob: A Game of Operations

Grocery stores have been hard at work figuring out ways to get customers in and out, replenish shelves and keep associates safe. They've been able to muscle through it so far, but there are many operational considerations and logistics to finetune including labor, technology and equipment.

WDCast

Make Everything Happen At Once

Issue 21: The only reason for time, Albert Einstein once observed, is so that everything doesn't happen at once. While it still holds true for the rest of life, shopping is another story.

Wayfind

Malls are on Life Support: Not So Fast

The pandemic has been an accelerator, not a disruptor, especially for physical retail and mall stores. Consumers are now less inclined than ever to shop in person, so what comes next?

Point of View