From Hype to Habit
How Innovative Retail Brands are Embracing Sustainability at Euroshop 2023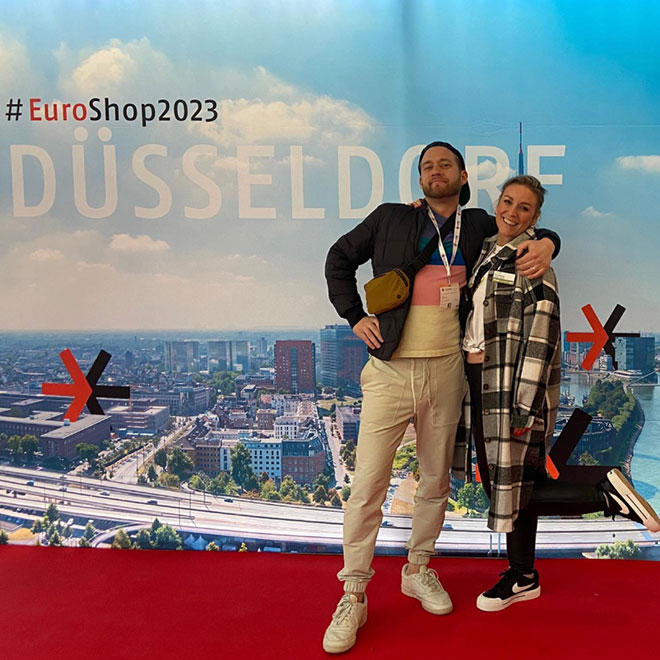 Trade fairs and sustainability aren't often thought of as going hand in hand. In fact, some might even argue the opposite. But this year, the world's number one retail trade fair proved that the two can have more in common than you might think. Hosted every three years in Dusseldorf Germany, EuroShop takes the crown as the largest global trade fair for the retail industry. EuroShop serves as a platform for professionals and businesses involved in the retail sector to showcase their products, services, and innovative solutions with the primary goal of providing a comprehensive overview of the latest trends, developments, and advancements in the industry. While it covers various aspects of retail, including store design and shopfitting, visual merchandising, lighting, technology, refrigeration, logistics, and marketing, one prevailing theme united exhibitors this year: sustainability.
At nearly every booth in every hall an environmentally conscious ethos pervaded. Vendors exhibited unique and novel products that not only offered environmentally friendly benefits to the consumer but also showcased an intense level of detail and an in-depth look into the manufacturing process. They provided an atypical level of transparency into how the booth was built, how it runs, and the end-to-end journey of their manufactured goods, demonstrating a genuine commitment, beyond mere words.
The commitment to sustainability extended to the smallest details. Many booths had an elaborate selection and variety of snacks and drinks–some even had full-service restaurants–and they made sure that for each of these offerings, reusable containers and biodegradable options were the default (and only) option. It went so far that one booth offering plastic and other non-sustainable packaging was met with disdain.
Booths also applied smart uses of everyday objects and building materials to create upscale experiences, showcasing innovative use of standard materials like OSB, cardboard packaging tubes, and paper pulp. For example, we saw vendors take OSB, a sustainable, but oftentimes tired-looking material, and ask, "What can we do differently with it?" The solution we saw utilized OSB 2x4s and loading straps to build banquettes, lighting fixtures, seating, retail displays, art installations, brand walls, and worktables – there was no shortage of unique applications of the most basic building materials available.
To fully illustrate the cradle-to-cradle journey of raw materials to available products, exhibitors focused on their manufacturing story, production process, and material selection. They even addressed other companies' lack of and poor sustainability measures.
Now that we've outlined some of the broader sustainability efforts achieved let's dive into a few specific examples.
UCGE
UCGE explored the question of how to create onsite recycling solutions and thereby greater transparency to customers wondering about a companies waste stream. They showcased what are called reverse vending machines whereby customers feed the machine empty bottles and cans and you can see the entire recycling process from start to finish in real time.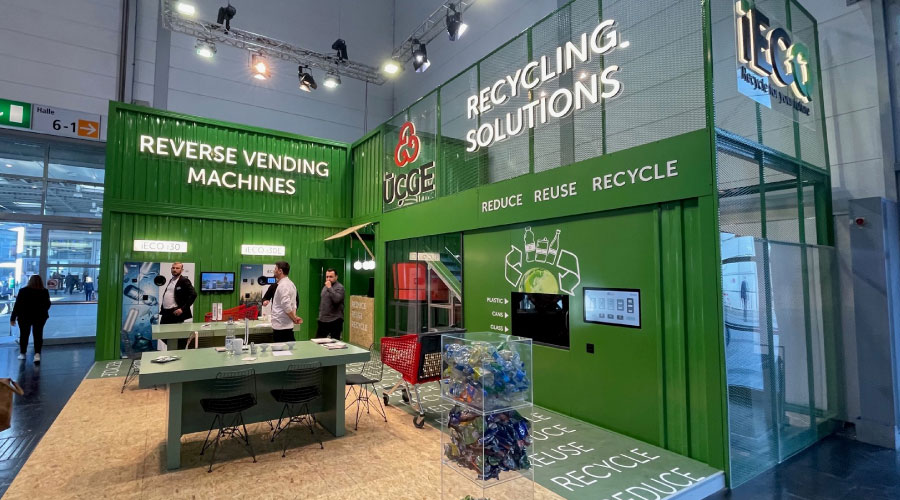 Procedés Chénel
Procedés Chénel are architects of paper. Their booth emulated a "paper forest" or "paper garden" using die-cut leaves, branches and flowers to create a natural space in an industrial landscape. All paper scraps generated in the creation of the booth were used to create pulp and cast into furniture and fixtures also on display.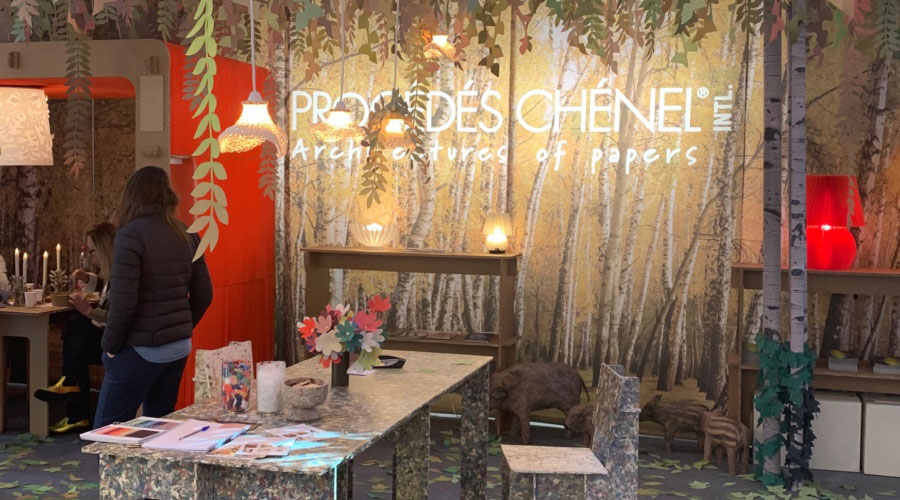 iTab
iTab is a shopfitting company that specializes in in-house design, layout, and design/manufacturing of displays, signage, fixtures, etc. Not only was their display sustainability focused – OSD plywood, and carboard tubes were used for the main display ¬–but sustainability was a constant thread across all retail channels and areas of expertise. iTab helps customers turn consumer brand experiences into physical reality with their know-how, solutions and ecosystem partners, covering interior fixtures, retail technology solutions, retail lighting, and full end-to-end services.
CIAM
An Italian food service provider, CIAM used a pathway framed in wood chips and faux grass, and supplemented their nature inspired display with suspended translucent printed fabric panels to provide interesting reflections in the mirror clad facings of products. Though the materials used in the refrigeration solutions aren't necessarily the most eco-friendly, it's the technology and engineering behind the products that highlights sustainability.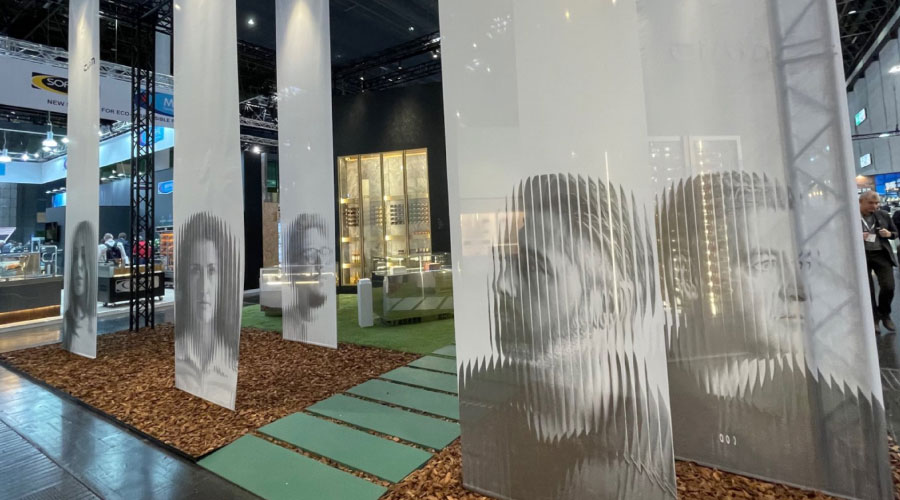 Hans Boodt
Never would we have expected to spend so much time with mannequins, but Hans Boodt's display fully captivated us. Hans Boodt's mannequins are designed to be fully customizable for your brand, reflecting both your desired mood and statement, and to be the face of your latest campaign. In addition to utilizing recycled plastics and other materials to form new customizable mannequins, the space was design using upcycled furniture and recycled 3D printed plastic displays. The whole space was designed to form a "Lab" experience, with employees wearing lab coats and a full-tour by a language-specific representative who highlighted the uniqueness of Hans Boodt's products, customization, and story.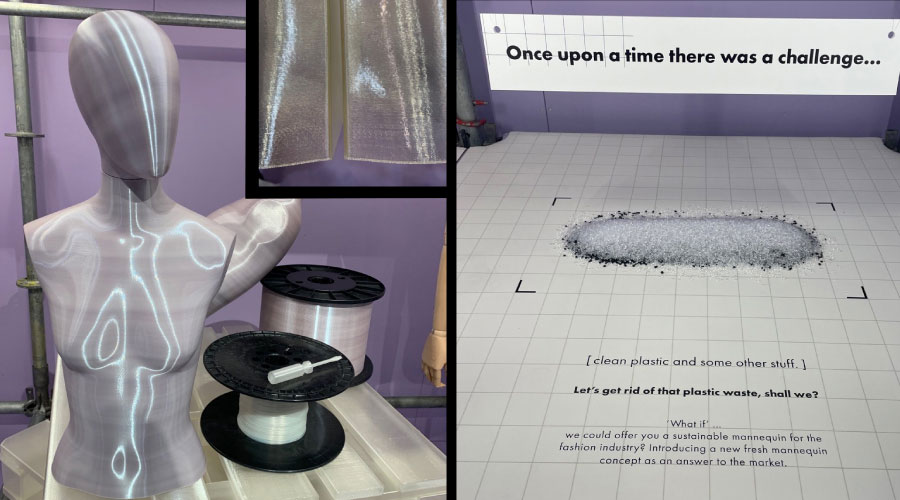 The future of retail and sustainability
Innovative retailers at EuroShop 2023 showcased the variety of ways that sustainability has a place in retail, but is it here to stay or just a fleeting trend? Moving forward, the responsibility rests on both retailers to continue pursuing and adopting environmentally friendly solutions and on the consumers to hold them accountable for a greener future.
Subscribe to Wayfind
---
Sign up to get trends and insights from the best thinkers at WD delivered direct to your inbox.
Refer a Friend
Use this link to refer a friend to Wayfind
---
Share on Social
Share Wayfind on your social networks
Back to Wayfind

More from WD