How to Save Today's Mall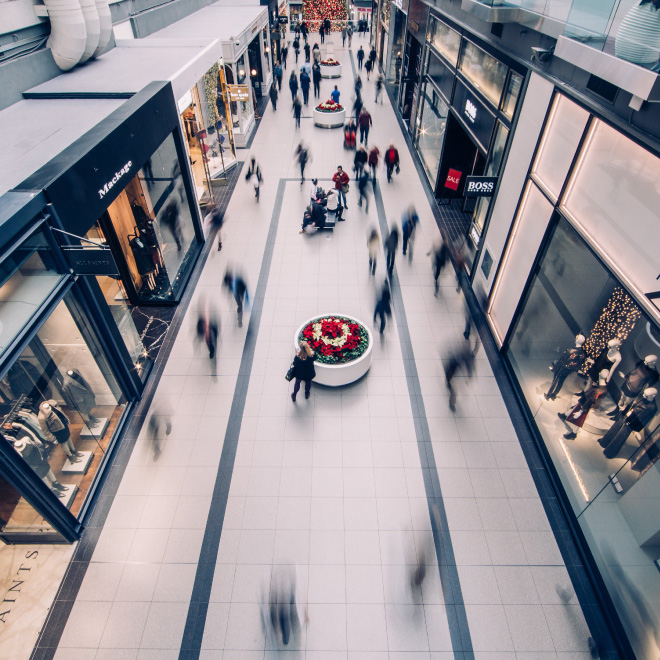 ---
Estimated Read Time: 4 Minutes
---
On Cyber Monday, the retail industry achieved a new milestone–the single largest e-commerce day on record with $10.8B in sales! According to a report from Creditntell, this represented over a 200% increase from 2016 Cyber Monday sales. Sensormatic Solutions shared that physical store traffic declined 49% for the four-day holiday weekend. Black Friday weekend confirmed that traditional brick-and-mortar retailers face an uphill battle as they enter the new year.
The growth of e-commerce sales and the decline of in-store traffic are creating new challenges for traditional malls. Department stores, which traditionally served as the pillars of these properties, are closing and consumers are looking for new points of engagement and authentic direct-to-consumer brands. When you combine this historical change with the impact that the pandemic has had over the past year; it's understandable that concerns are growing amongst mall owners, investors and developers:
What will drive consumers back to brick-and-mortar stores?
What types of retail will emerge from this pandemic?
What do communities want from their malls?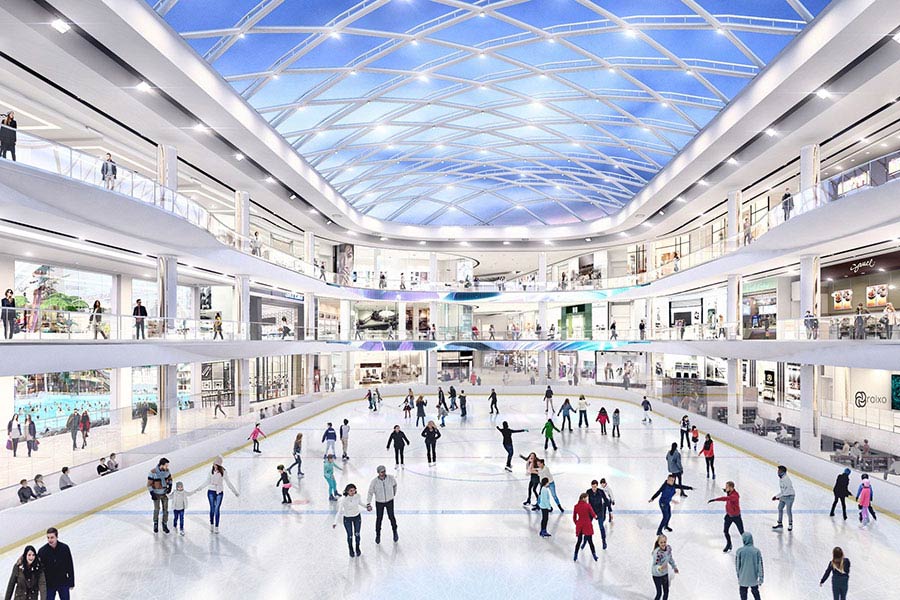 Historically, traditional malls have offered a place where a community can come together to shop, eat, and be entertained. Over the past thirty years, savvy developers have shifted their offerings from traditional shopping, focused on department and specialty stores, to new shopping experiences including digitally native brands, exciting food concepts, and larger and more sophisticated forms of entertainment from state-of-the-art movie theaters to water parks and rides. These malls have played an important role in the community providing a place to meet and share experiences, as well as delivering tax revenue that supports schools, health services, and police and fire departments. Today, traffic is slowing down, stores are going dark, and consumers are expecting developers to reimagine a new experience to drive footsteps back to the mall. Now is the time for developers, owners and investors to revitalize their assets in order to maximize revenue.
What Do Consumers Want in Their Mall?
To understand this and to help developers, owners and investors move forward, Cushman & Wakefield and WD Partners joined forces—WD Partners compiled consumer insights to understand what they want in the mall today. When asked what concepts would increase visits to the mall, consumers demonstrated that they are looking for concepts that are valuable and desirable. The survey highlighted the following key trends:
Food was the winner two years in a row. Consumers didn't just mention restaurants, they also cited interest in grocery, farmer's markets, curated food courts, and quick service food. Food brings us together. It is an important point of engagement, offers memorable moments, and can be the cornerstone of a community. Food also drives traffic and extends mall foot traffic beyond the conventional store hours. Over 60% of those surveyed focused on this amenity.
Health and Wellness came in a strong second two years in a row with 43% surveyed leaning towards wellness and 36% towards fitness. Consumers continue to see tremendous value in staying well and physically fit. These concepts include the obvious walk-in medical clinics and gyms, to brands that sell fitness equipment and apparel.
New Concepts and Experiences were third with 35% of consumers looking for new concepts, experiential retail, and co-working spaces. These include pop-up shops, ax throwing bars, and gaming arenas. Some of these concepts are new additions to the survey illustrating how retail is evolving and focusing on consumer engagement.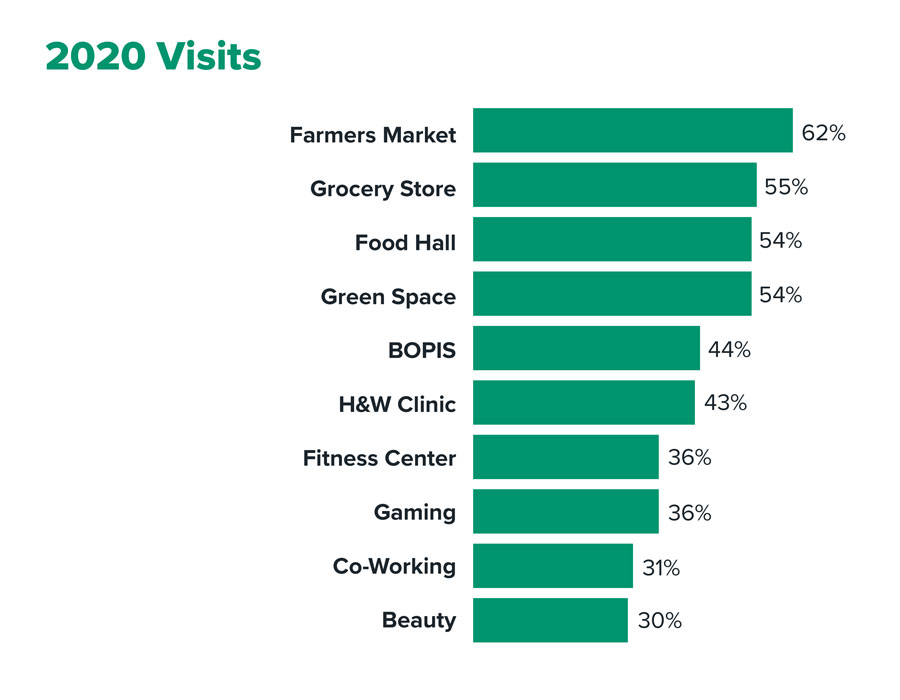 Also emerging as an important trend were safety and convenience factors like Buy Online Pick-Up in Store (BOPIS) and Curbside Pick-Up. 44% of those surveyed were looking for speed, convenience, touchless technology, and safety. Consumers also indicated that "green space" would be an important part of engagement. These trends are not surprising given the pandemic's impact on consumer behaviors and experiences.
When analyzing the data by age, WD Partners reviewed the differences between two key groups–Digital Natives (ages 18- 29) and Digital Immigrants (ages 45-60) and found that food continued to be the biggest draw, and that the largest spread was in the areas of fitness (19% spread) and gaming (18% spread). All age groups were focused on safety and wellness, as well as co-working spaces. Digital Immigrants, who grew up in malls, have a greater attachment to the structure and purpose of malls. Digital Natives are looking for a more creative experience overall. They are also very receptive to new ideas and concepts, especially when based on two premises; food and fitness. Much has been written recently about Milennials and Gen Z in regards to behavior, but increasing their visitatation to retail properties looks pretty straightforward.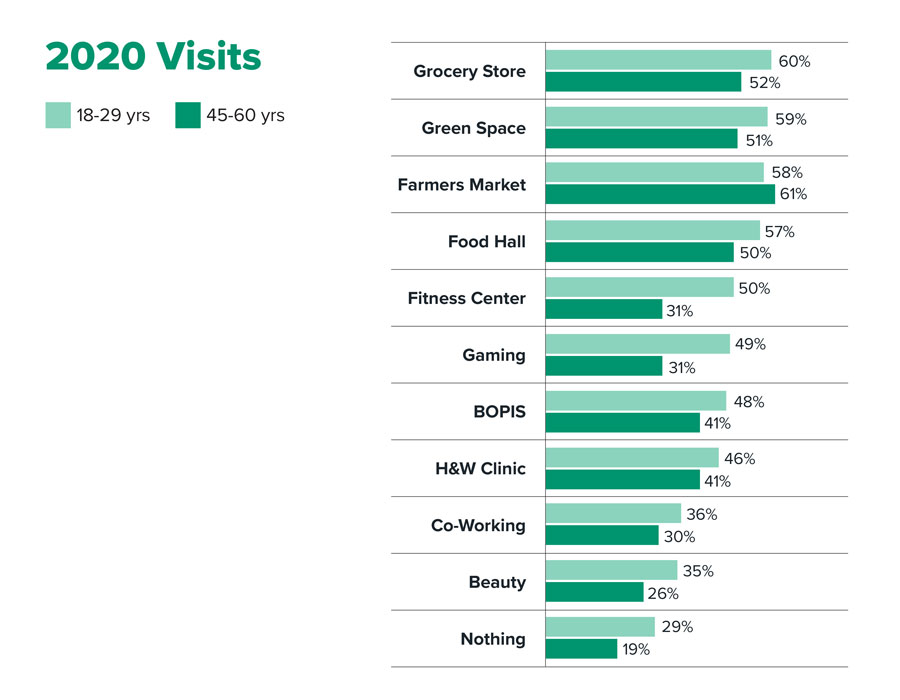 The evolution of shopping malls has been an ongoing focus for decades. In the 1980s, we could not imagine that they would one day contain brands that extend from high-end dining to fitness to experiential concepts that sell sophisticated technology like phones and laptops. We could never envision trading in our Levi's for Athleisure. Nor would we believe that we could work out at our gym and then grocery shop in the same place. The next evolution will bring new and exciting experiences that will differentiate the new decade from the last. Retail is an evolving eco-system where consumers explore and experience brands, and malls are one of the most important hosts of that experience.
Subscribe to Wayfind
---
Sign up to get trends and insights from the best thinkers at WD delivered direct to your inbox.
Refer a Friend
Use this link to refer a friend to Wayfind
---
Share on Social
Share Wayfind on your social networks
Back to Wayfind

More from WD