How to Treat Your BOH Like the Heartbeat of Your Store
---
Estimated Read Time: 1-2 Minutes
---
The last couple of years in the retail industry have felt like driving on an F1 racetrack with the pedal pressed to the floor. The growing demand and use of alternate fulfillment methods like BOPIS, curbside pick-up, ship-to-store, and digital return-to-store have caused many retailers to embrace living life in the fast lane. The speed at which stores were forced to change how they operate has been unprecedented. And it doesn't appear to be slowing down anytime soon.
Let's look at some stats to drive this point home (okay, we promise we'll put the brakes on the car puns now 😉)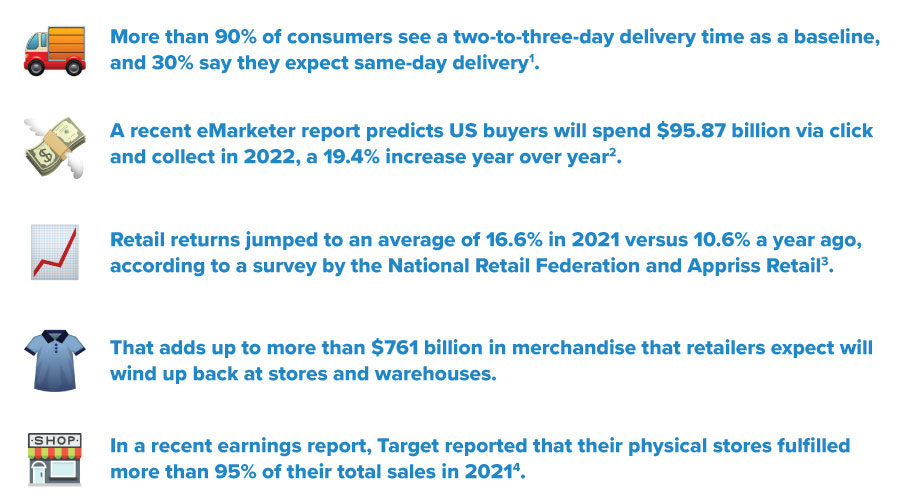 Let that last one sink in for a minute. 95% of all sales were fulfilled by their stores! Insert mind blown emoji. How retailers successfully utilize the store as a fulfillment channel is no longer an option—it's mandatory.

We believe one of the first places retailers must address is their Back of House (BOH). The space that we affectionately refer to as the heartbeat of the store is often treated as an afterthought by many brands. You know who you are. Does your BOH still look like it did 20 years ago? Racks and racks of merchandise holding back-stock, extra bags, and a wedged in break table and minifridge for your associates? Or maybe you recently "remodeled" and decided that a tiny BOH was the way to go to maximize selling space on the floor? We're here to tell you that when done right, your Back of House can be selling space too, and even a key contributor to your dollars per square footage KPI. You feeling that mind blown emoji now?
In our Think Outside the Box POV, we dive into the three major ways you can bring your BOH (and ultimately your entire store operations) into the 21st century where it belongs.
Creating a well-designed BOH space
Assessing how you process and replenish products for both on-floor sales and online/BOPIS orders
Defining the best labor model to support store operations
We invite you to download the full POV via the form field below and get ready to bring your BOH into the fast lane where it belongs.
Subscribe to Wayfind
---
Sign up to get trends and insights from the best thinkers at WD delivered direct to your inbox.
Refer a Friend
Use this link to refer a friend to Wayfind
---
Share on Social
Share Wayfind on your social networks
Back to Wayfind

More from WD