WDCast: Q+A With Jen Peterson
(CEO of Easton Town Center)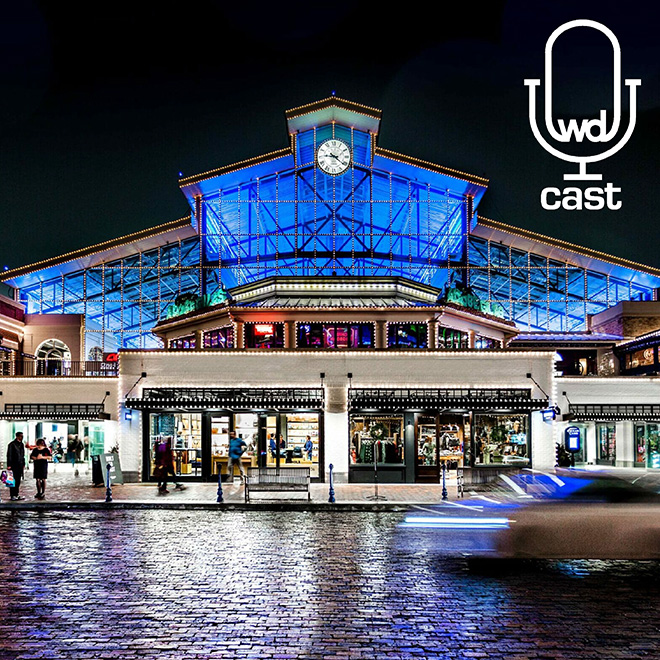 ---
Estimated Read Time: 3 Minutes
---
This episode of WDCast hits home, literally, as we talk about the success story of a well-known shopping center here in WD's home base: Columbus, OH! We invited CEO of Easton Town Center, Jen Peterson, to share how the space has transitioned from a shopping center to a welcoming neighborhood that has something to offer every guest. Strategizing vendors and fabricating experiences throughout the space are two integral pieces that make this shopping center earn #1 in the country by Chain Store Age. Warning: Listening to this episode will get you in the holiday shopping spirit. Listen now!
In the meantime, enjoy some highlights from the episode:
Lee: What do you think (without giving away any secrets or any micro) is the shopping center of the future?
Jen: I think the want is to be a neighborhood. [Easton] feels "neighborhood-y", but we've never had residents actually living on property, and that's coming! That started pre pandemic and had a pause. We'll get going again here shortly. There will be people 24/7 living at Easton. So that's exciting! We have to think about: what are the additional civic uses that need to show up? What are the cultural institutions that might be appropriate where you have folks living?
Lee:
So thinking about a macro trend, shopping centers have to compete with the speed and convenience of e-commerce. How do you think about that when setting up a shopping center now?
Jen: We know that customers are going to decide how they want to interact with the brand, and how they want to interact with us. It could be in real life, on our app, through our website, or social channels. From a brand perspective, we want to remove friction wherever we can. We have dedicated areas where guests can do pick-up seamlessly. We have a service with Cbus Shops where someone could buy something online and indicate that they want to pick up in store. But then if they send the receipt to Cbus Shops, they pick it up, and they deliver it to your home the same day. It's like meeting the guests where they are and not assuming that even you, Lee, on a particular day are going to do the same thing you did last week.
So, we're wanting to always think of omni channel interactions. How do you want to find stores? Do you want to walk in and go to our touchscreen directory and get walking directions? Do you want to pick up a paper map? Or do you want to go on our app and find the store that way? We make it all available. And we also have humans at our Guest Services desk for the person who still wants to actually interact with a live person. We think that's super important.

Lee: Is there anything else you want to tell us about Easton? Any secrets that you're about to unveil or specials?
Jen: There are always new brands that are percolating. I'm not at liberty to talk about them yet, but I think you'll hear some exciting announcements. We've got some great stuff planned for the holiday. Last year, Santa was virtual. We kept him safe at the North Pole and he did personalized videos, and this year Santa is going to be in his own North Pole location in the former Henri Bendel space, which we are transforming. We're going to offer the videos again for those that are just not ready to be out or for those that maybe found it last year and don't even live in the market, but love the idea of a personalized video for their loved ones.
I mentioned the Easton Lodge that we're going to transform with heaters, great furniture and décor. We hope when we light up Easton on the 19th of November, which is our grand illumination/ kickoff to the season, that every part of the property will have something exciting going on. We have exciting things from the town square all the way up to our new district. It's exciting!
---
Happy shopping this holiday season, and cheers!
Subscribe to Wayfind
---
Sign up to get trends and insights from the best thinkers at WD delivered direct to your inbox.
Refer a Friend
Use this link to refer a friend to Wayfind
---
Share on Social
Share Wayfind on your social networks
Back to Wayfind

More from WD