Leader
Jay Highland
---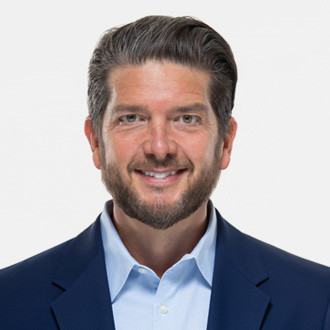 EVP, Creative
Jay spent over 17 years building teams, leading creative, and collaborating with all disciplines involved with experience design. His career path encompasses all phases of the retail strategy and design process, solving clients' real-world business problems via "big ideas" in concepting, prototyping, and scaled implementation. Jay is a team and account leader—collaborating, listening, building, guiding, and doing. He has provided direction to the entire spectrum of the innovation & scale processes and encourages big thinking from every team member.
Jay has built strong relationships with clients, fostering trust and serving as a bridge between business needs and creative solutions. Some examples of Jay's relationships include Target, Verizon, Giant, M&M's, Shinsegae/Emart, Krispy Kreme, Meijer, C&A Brazil, FAO Schwarz, El Pollo Loco, and Comcast.
He is a recognized industry veteran and leader. In 2019, he was awarded as an industry-leading Design Influencer in Design:Retail's Portfolio Awards. He is a featured speaker with numerous appearances at global events, such as the International Retail Design Conference (IRDC), GlobalShop, EuroShop, the Design:Retail Forum, and the National Retail Federation (NRF). Jay sits on the VMSD Editorial Advisory Board.
His early career was spent in Boston where he learned from several influential designers, including Philip Johnson, Clifford Stoltze, and Roger Sametz. He's a University of Cincinnati grad with a degree in Graphic Design from DAAP.
Jay lives in Columbus, Ohio, walks over 50 miles a week (listening to a lot of podcasts), is probably a bourbon snob, is a diehard Red Sox fan, and gets emotional watching The Great British Baking Show.
Back to Who We Are

More from WD