Feeding the People: Restaurant Concepts that Drive Consumption
---
Estimated Read Time: 2 Minutes
---
Robot chefs. AI taking drive-thru orders. Drone delivery. A tech-influenced restaurant industry is no longer a far-off future. It's here. And it has been brought on by some of the most disruptive industry pressures: labor shortages, time-poor consumers, interest in conscious consumption, and the overwhelming need for an elevated consumer experience. And of course COVID-19, but that's a given, right?
So where do you go from here? The inconvenient truth is that there is no one "Restaurant of the Future." Before COVID-19 was ever part of our collective consciousness, delivery sales were on track to outpace in-restaurant sales , growing at more than three times the rate of on-premises sales, and online food delivery was expected to become a $365 billion industry by 2030.
Today, seasoned operators know that the ideal restaurant experience in an affluent urban core is worlds away from that of a rural university campus. In the past, operators have taken the T-shirt approach with small, medium, and large stores or modified the surface-level aesthetic to fit its locale. Changing customer expectations and industry pressures demand a new recipe for success. A strategic array of offerings, from ghost kitchens to high-service experiences, will allow brands to meet customer needs in a way that is operationally efficient, scalable, and resonates with the most precious commodity of them all—customers.

Future Concepts
So we all agree there can't possibly be ONE "Restaurant of Future." Instead, brands will use a Restaurant Portfolio Strategy: a flexible approach that helps brands meet customer needs in a way that is operationally efficient, scalable, and resonant. While a brand's portfolio can include an array of experience modules, we're going to focus on just three key themes that are becoming increasingly relevant today: seamless delivery, convenient consumption, and memorable immersion.
Seamless Delivery
The name of the game right now (and for the foreseeable future) is all about meeting customers where they are. In some cases, this means units devoted to production, not on-premise service. By focusing solely on delivery, this concept becomes a finely-tuned machine capable of fulfilling orders faster than ever before.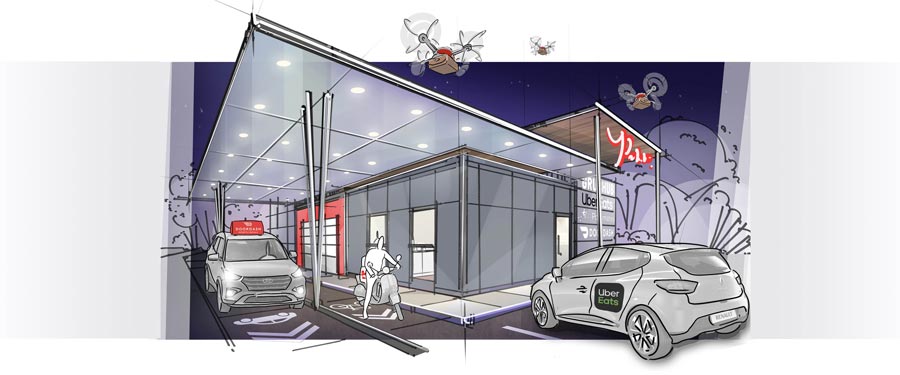 How it works: delivery orders within a set radius are routed through a central kitchen, where they are cooked and handed off to drones and delivery runners. The upside is unparalleled efficiency, free of distractions. The downside is that consumers might not like the idea of a ghost kitchen (yet). Success will be determined not just by brands' ability to deliver, but to deliver increased value.



Hungry for more?
Download the full POV to see the rest of our ideas on driving convenient consumption and memorable immersion.
The time for the restaurant of the future is now.
Subscribe to Wayfind
---
Sign up to get trends and insights from the best thinkers at WD delivered direct to your inbox.
Refer a Friend
Use this link to refer a friend to Wayfind
---
Share on Social
Share Wayfind on your social networks
Back to Wayfind

More from WD