Our Top 5 NAFEM Show Takeaways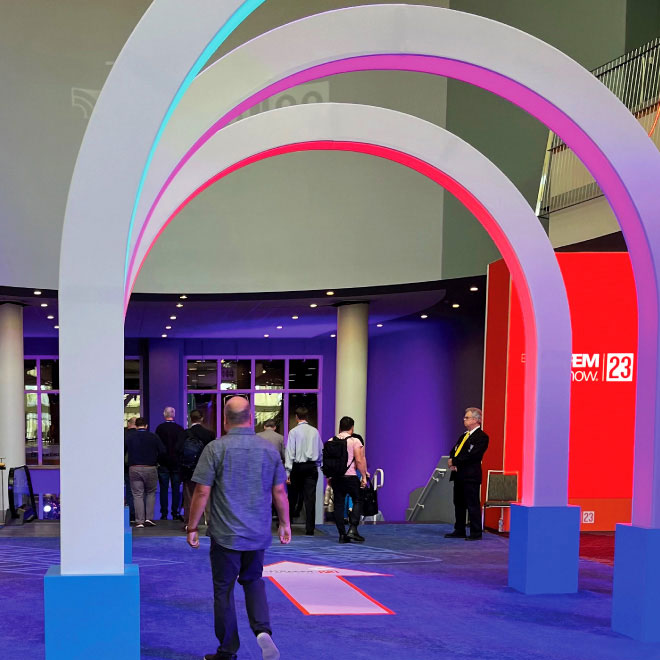 ---
Estimated Read Time: 3 Minutes
---
The NAFEM Show is a three-day exhibit showcasing the latest in commercial food service equipment & supplies (E&S) solutions and intended for anyone in food service management and operations. As food service and operation nerds, we had to be there.
So, we joined in alongside the hoard of over 20,000 food service operators, dealers and distributors, and design consultants and investigated as much as we could of the 300,000 sq. ft of exhibit space and 500 exhibiting companies. Here are our takeaways.
Food lockers are mainstream


By incorporating technology not available with cubbies and shelves, food lockers are transforming the order fulfillment process and are an increasingly popular trend among larger equipment manufacturers. We saw everything at the show from food lockers with temperature controls, to technology that allows customers to receive pickup information and access their products 24/7 once employees have designated their locker, to in-wall installations allowing for interior product fulfillment and exterior customer pick-up.

Mobile order technology is everything


Mobile order technology was on full display at NAFEM, and it makes sense – mobile ordering allows operators to offer a more convenient and personalized customer experience, to improve operational efficiencies and reduce bottlenecks, to expand their reach to new customers, and to drive sales all to meet their business objectives and remain competitive in a rapidly changing industry. At the show, manufacturers had fully functional booths that allowed attendees to order food and beverage from an app, receive notifications via text message, follow orders on an order status screen, and pick-up their order from food lockers, no face-to-face interactions required.

AI software is alive and actually helpful


AI technology is becoming increasingly unavoidable in the food industry for handling things like inventory management and suggesting personalized customer menu recommendations. At NAFEM, we saw this play out in a company whose machine learning software learns products through product images in order to help employees keep production lines stocked. Here's how it works – overhead cameras monitor product levels, AI software anticipates upcoming needs based on historical transaction data, and a display screen cues employees when items are needed and how much to stock before products run out. This software could even be used beyond the food service industry and in other retail environments. Point is, as a customer, you'll never again need to hunt down an employee about an out-of-stock item and waste time waiting for them to see if they have more product in the back.

Robots. Robots. Robots.


The possibilities for automation in the food service industry are endless so it was no surprise to us that robots were a shining star at many display booths. This year's cohort of new robots included automated kitchen equipment like a robotic fry arm, a pizza vending machine, and robot wait staff to assist with transporting things like food and dirty dishes. Considering their limitless number of capabilities, robots could be especially helpful in alleviating pain points for the many restaurants who are facing staffing shortages and employee retention issues.

Flexible Solutions


Lastly, a theme we noticed at The NAFEM Show was flexible solutions. For example, we saw electric vehicles with modular equipment for flexible food and/or beverage offerings and ventless solutions to facilitate flexibility without typical hood and ductwork requirements. These innovative solutions allow food service operators to adapt to changing customer needs and space constraints, important factors in the constantly evolving food service environment.
All said and told, we had a great time at NAFEM and will definitely be back in 2025 to see what additional innovations and technologies are enabling brands and restaurants to create a better customer experience. Curious whether or not your organization could benefit from some of these new technologies and solutions? We have experts who can help! Reach out at TalkWithUs@wdpartners.com to discuss how to improve your food service operations.
Subscribe to Wayfind
---
Sign up to get trends and insights from the best thinkers at WD delivered direct to your inbox.
Refer a Friend
Use this link to refer a friend to Wayfind
---
Share on Social
Share Wayfind on your social networks
Back to Wayfind

More from WD