DICK'S Sporting Goods: Revolutionizing the Sporting Goods Retail Experience
A Look Inside the Innovative Prototype Store and WD Partners' Collaborative Approach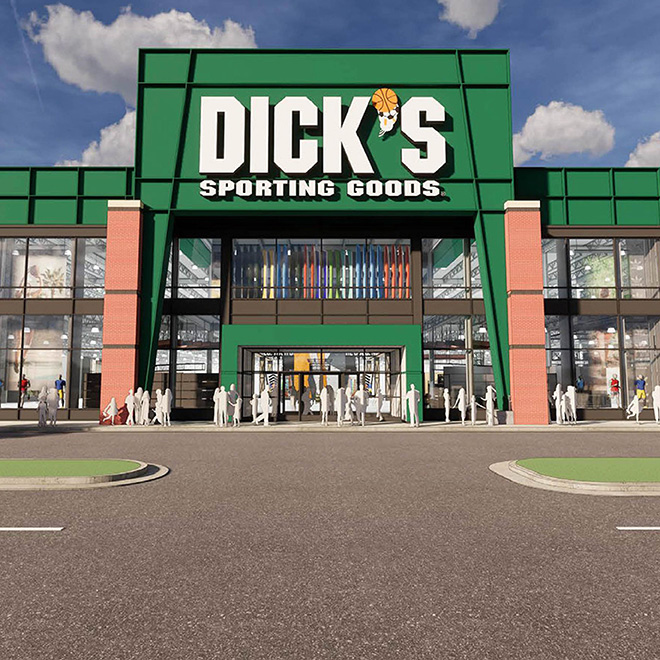 ---
Estimated Read Time: 3 - 5 Minutes
---
It turns out that the grass may in fact be greener on the other side, especially if your "other side" includes an outdoor turf field, rock climbing wall, and batting cages. While many retailers have faced challenges over the last 12 months, DICK'S Sporting Goods (DSG) concluded the 2020 financial year on a high note. According to their Q4 earnings report, DSG's same-store sales surged by 10% for the year, and they experienced a remarkable 100% increase in e-commerce sales. This growth aligns with the increased demand for work-from-home attire (hello sweatpants), the rise in home-based workouts, and the desire to spend more time outdoors to break free from the confines of the past year.
The Game-Changing Reinvention
DSG is entering 2021 with momentum, unveiling the first DICK'S House of Sport, an innovative prototype store that debuted in Victor, New York in mid-March. This new retail destination boasts a turf field (transformed into an ice rink during the winter) and offers an extensive array of amenities, including a running track, a rock-climbing wall, and versatile spaces for community gatherings, field days, training sessions, and sports practices. Lauren Hobart, President and CHief Executive Officer of DICK'S, says "This new Dick's store will focus on service and community and allow us to innovate and deliver elevated experiences to our athletes." "It will serve as a test and learning center and [we] will roll the most successful elements into our core Dick's stores."
At WD Partners, we're thrilled to have partnered with the DSG team on the strategy, design, operations and buildout of this groundbreaking prototype store. Here's an in-depth look at our partnership and the work we've done with this iconic brand.
Check out the full case study.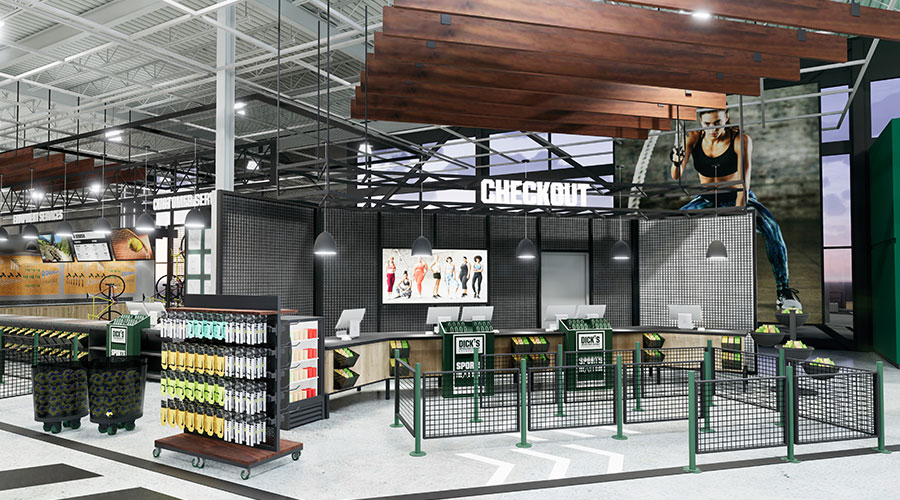 Customer-Centric Strategy: Understanding Athlet Mindsets and Pain Points
At the onset of the project, our strategy team embarked to reimagine the in-store experience. We dug deep into the mindset of existing customer personas and explored the aspirations of potential customers who had not yet shopped at DICK'S.Through extensive customer research, we immersed ourselves in the mindset of athletes and identified pain points along their buying journey. These insights served as the foundation for a new strategy designed to instill confidence and fuel excitement in athletes, empowering them to chase their dreams.
Elevating the In-Store Experience
To capture the essence of sport, our design team ventured into locker rooms, community fields, basketball courts and baseball diamonds. We sought out the most memorable moments that could be brought to life within the store. We created authentic and unique experiences to elevate the in-store experience, while also challenging traditional retail concepts to ensure design principles aligned with our vision for the store. This involved the introductions of contemporary colors, modern furniture, innovative fixtures, captivating lighting and dynamic mannequins to reshape perceptions and engage new customers.
Read: 4 Steps for Rethinking Experiential Retail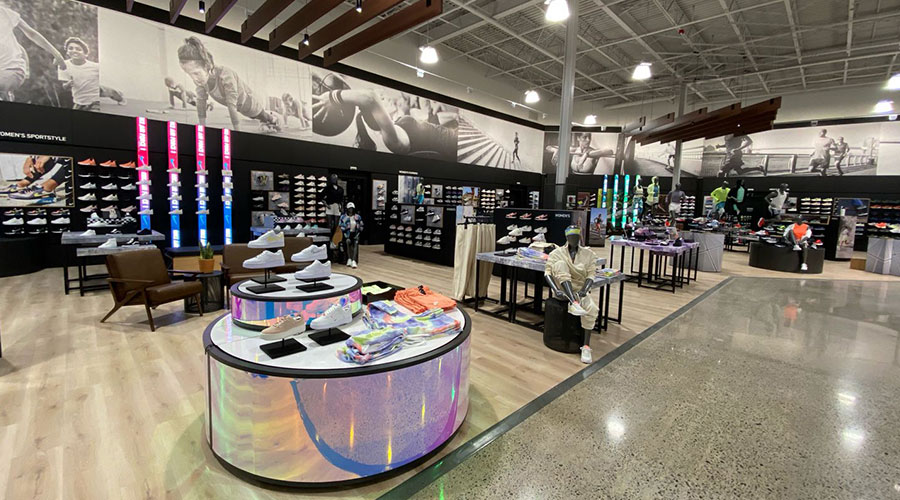 Validation through Consumer Insights
We conducted multiple waves of qualitative consumer validation research for initial feedback on concepts as well as final concept validation. Our team designed the research methodology, discussion guide, and stimulus materials. We invited consumers into our proprietary research space, Retail Theatre, where we gauged reactions to key moments and experiences within the future ecosystem.
Efficiency In Fulfillment: Optimizing Operations for Online and In-Store Orders
In a recent announcement, DSG revealed that their store network fulfilled 70% of online orders in Q4 of 2020. Coupled with the increase in Buy Online Pick-Up In Store (BOPIS) orders, our Operations team recognized the importance of optimizing processes, staffing, and fulfillment for the new store prototype. We devised Back-of-House (BOH) solutions that maximized selling square footage while protecting essential areas and departments. These solutions streamlined inventory flow and identified opportunities for labor savings.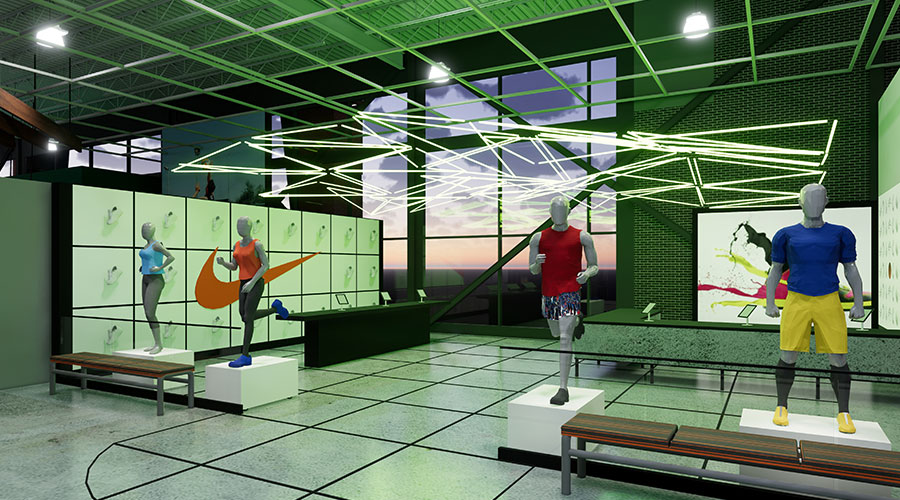 Creating Scalable Solutions
Throughout a comprehensive design process, WD created new entrances for fulfillment, introduced new opportunities for visual merchandising on the exterior entrances, and established a versatile multi-sport outdoor field. We created comprehensive design documents and guidelines, as well as a kit of parts system to standardize the concept and facilitate scale. WD provided fully integrated AEC and Development services to DSG, including site validation, due diligence, vendor coordination, permitting, and construction administration.
A Home Run in Retail
We may be biased, but we think DICK'S really hit it out of the park with this prototype store, and it represents a slam dunk in the sporting goods market. This innovative concept is sure to win customers' hearts and be named MVP. Okay we'll stop now.
Read: DICK'S House of Sport Wins VMSD/Peter Glen Retailer of the Year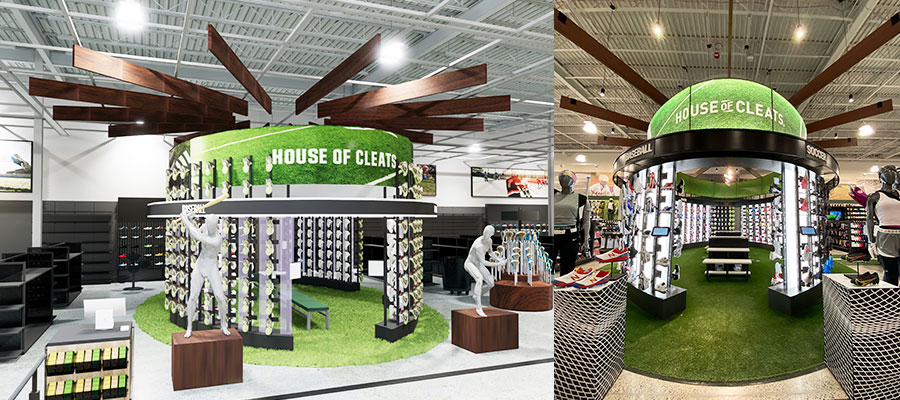 Back to Wayfind

More from WD