How to Be a Great, Not Just Good, Retailer
Why it's important to create a distinctive retail experience for customers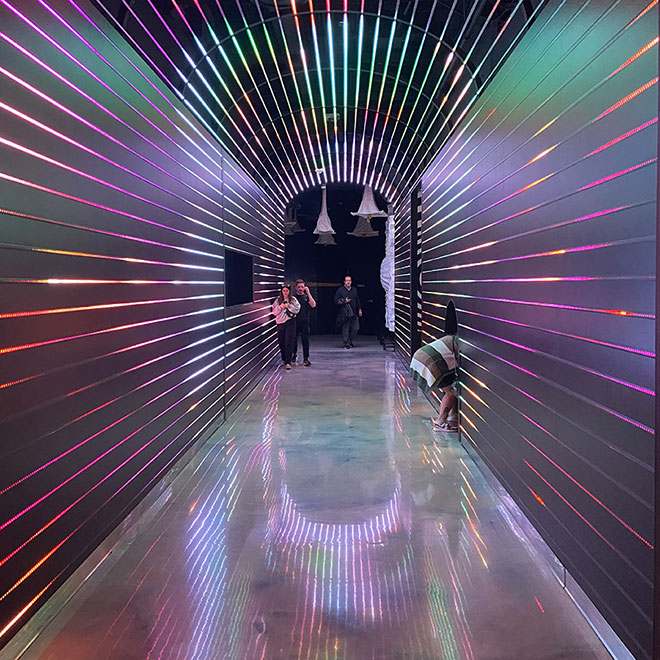 ---
Estimated Read Time: 5 Minutes
---
In today's competitive retail landscape, it's crucial to go beyond the ordinary and create a distinctive retail experience that sets you apart from the competition. Whether you're in Las Vegas or anywhere else in the world, being a great retailer is about embracing your unique qualities, taking calculated risks, and captivating your audience. In this article, we'll explore the key strategies that can help you become a great, not just good, retailer, and why this matters for your brand's success.
Why Distinction Matters
We just got back from "Sin City" and as it turns out, what happens in Vegas doesn't have to stay in Vegas. In a place known for its excesses and extravagance, ordinary just won't cut it. A lot of Vegas retail is good, but truly great retailers are the ones that embrace the spirit of the city. They leverage the opportunity of their location, take bold risks (dare we say, roll the dice), and create retail experiences that are as over-the-top and captivating as the city itself. The best retailers in Vegas, and indeed anywhere, play with a theme, understand what makes them unique, and amplify those qualities to transform their stores into attractions rather than mere shops. When your store evokes the same feelings as Las Vegas–over the top, larger than life, surreal, or uniquely captivating–you know you've achieved something great.
Still confused? Keep reading for a full breakdown of what NOT to do and what TO do in Vegas (as a retailer, of course). Even if your brand is far from the glittering lights of Las Vegas, the lessons we're about to share apply to any retailer aiming to break free from the ordinary and provide an unforgettable customer experience.
What NOT to do in Vegas
1. Don't Forget Your Customer Base or Location
Simply put, don't do the same thing in Vegas that you'd do in Ohio. One of the biggest mistakes you can make in Vegas is treating it like any other location. Shoppers in Vegas have different expectations and mindsets. While beautiful stores are important, they must also be captivating landmarks. Take Lacoste at Forum Shops, for example. The store may have been well-designed and maintained, but it lacked the entertainment factor that's expected in the City That Never Sleeps.
2. Don't Implement Unnecessary Technology
In our tech-centric world, it makes sense (and pays off) that retailers are introducing new technology to their stores, but requiring customers to download an app without a clear incentive can lead to a poor customer experience. We don't like calling people out, but Urban Necessities required people to download their app simply to enter the store. doing so other than entering the store. We stopped filling out the profile after the fourth page of requested information – talk about a horrific customer experience!
3. Don't Be Bound by Reality
Sometimes, the most captivating experiences blur the lines between reality and fantasy. For instance, Area15's OmegaMart, though relatively expensive, offers an immersive experience with a fun house, bar, and multiple gift shops. We felt like Xhibit was trying to punk us when we left the gift shop and were presented with two (yes, two) additional gift shops (throwback MTV reference). It felt like they were saying, "Hey, we heard you liked gift shops, so we put two gift shops right outside our gift shop!" It might seem absurd, but it successfully engages customers and generates excitement.
What TO do in Vegas
1. Champion Your Product
Planet13 just opened the world's largest dispensary in Las Vegas, the entertainment capital of the world. From the 18-foot outdoor water feature to the interactive LED elements, 3D projection, interactive laser art, and VW van hotbox simulation – this place is designed to knock your socks off. In addition to the cannabis superstore, the venue offers a behind-the-scenes view into the 14,000 sq ft active production facility where edibles, drinkables, smokables, and vapables are being produced by both humans and robots. When they're not working, the robots show off for visitors by fighting with lightsabers and cracking open beverages. Naturally, there's a munchie-crushing, greenhouse-inspired, beautifully designed restaurant with artisan dishes and cocktails too. The superstore itself offers endless visual merchandising of all the goods and a consultative service model where everything is safely stored in the back-of-house. Although certainly not a destination for regular cannabis customers, the space offers a fun, experiential and de-stigmatizing introduction to a dispensary for those who may be new to the industry.

2. Push the Limits of Form and Function
Take a cue from Culture Kings, which uses imaginative merchandising to create a visually powerful retail space. Their impactful display of hats and accessories efficiently showcases their extensive product selection while remaining functional for storing backstock and capitalizing on the available vertical space. Culture Kings' expression of streetwear is an excellent example of relying on product beauty rather than graphics, murals, or other retail tropes.
Culture Kings succeeded from a digital expression standpoint as well. Instead of large display monitors, digital graphics are integrated into the architecture and interior design. Bridging the gaps between this multi-level retailer, a siren-like LED panel graphics program activates the stairs and egress instead of competing with it. Playing with the hierarchy, sometimes these LED graphics are the hero, and sometimes they're the backdrops, tucked away in the stairs, corridors, and dressing rooms. Working in concert with mirror-wrapped columns, this store presents a strong point of view on what's hip while creating a stage for products to shine.

3. Leverage Smoke and Mirrors with Technology
Let's use Area 15's Omega Mart as a first-rate example (if you can ignore the aggressive business model and gaping hole in your wallet). Their ethereal displays and out-of-this-world experiences are all grounded in clever and hidden executions of technology, lighting, and materials. By skillfully incorporating projection mapping and illumination, they leave visitors in wonder. This is a textbook example of relying on product expertise and execution rather than fancy technology to create an incredible effect within a reasonable budget.

While the Las Vegas environment may not suit every brand, it's essential to be innovative and daring if you want to make it in this neon city. Keep in mind that although it may never be as important as it is in Las Vegas, creating an interesting, exciting, and distinctive retail experience is important for any retailer looking to curate an immersive environment for guests. Keep pushing your brand to experiment with new technology, use of space, and forms of brand expression to differentiate yourself from all the good, but not great, retailers out there.
Back to Wayfind

More from WD