HealthWellness
"Payviders" Moving to the Front Door of Healthcare
How Payer-Provider Hybrids are Redefining the Healthcare Landscape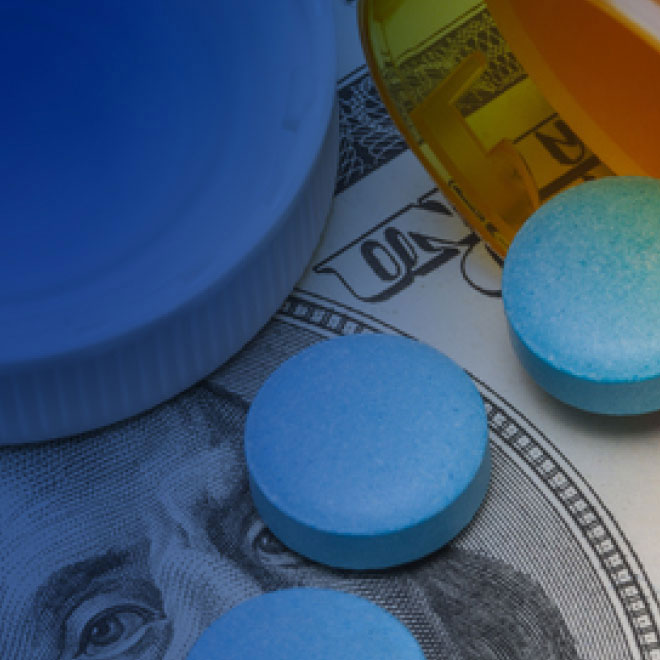 ---
Estimated Read Time: 4 Minutes
---
Navigating the intricacies of the healthcare industry often feels like traversing a maze of jargon and complexity. In this intricate ecosystem, one segment, known as "payers," plays a pivotal role. Industry giants such as UnitedHealthcare, Humana, Cigna Healthcare, and Elevance Health (formerly Anthem) are the financial engines behind healthcare, cutting checks to those offering medical services and attending to patient needs. However, these industry giants are moving aggressively, shifting from intermediaries to rolling out their own networks of provider services, particularly in primary care. They are creating vertically integrated networks where payer meets provider, a phenomenon we like to call "Payviders." A major impetus for the emergence of Payviders is the movement from fee-for-service to value-based care. By integrating vertically, Payviders aim to reduce costs through preventative care or early intervention while guiding patients toward cost-effective treatment options. These dynamic payer/provider hybrids are allowing primary care to play a more influential role within the healthcare system, offering control and influence that can trigger far-reaching effects.
UnitedHealthcare: Pioneering Payvider Practices

UnitedHealthcare is the most aggressive of the Payviders, boasting a diverse array of primary care services, including primary care practices and urgent care centers under the OptumCare umbrella. OptumCare has over 60,000 doctors spread across 2,000 locations nationwide, catering to over 20 million patients. The acquisition of DaVita Medical Group in 2019 gave them a significant head start in the Payvider market. In their most recent 2023 acquisition of Crystal Run Healthcare, a multispecialty physician group, they added more than 400 providers and over 30 additional locations to their network. The American Hospital Association report cited Optum as the foremost disruptor in "transforming primary care," surpassing the likes of CVS Health, Walgreens, Amazon, and Walmart.1
Humana: Leading Senior-Focused Primary Care

Humana's primary care organization, including both CenterWell and Conviva, stands as the largest provider of senior-focused primary care in the country. Together, these two brands operate nearly 250 centers across 11 states, with plans to expand by 30-50 centers per year until 2025. CenterWell Senior Primary Care and Conviva Care Centers serve approximately 240,000 patients, including those under various Medicare Advantage health plans and Original Medicare. These centers currently operate in Arizona, Florida, Georgia, Kansas, Kentucky, Louisiana, Missouri, Nevada, North Carolina, South Carolina, and Texas. Humana's clinics employ an integrated team approach that includes physicians, nurse practitioners, "nurse care coaches," clinical pharmacists, behavioral health specialists, and social workers. In addition, Humana has one of the largest home health organizations and ranks as the 4th largest Pharmacy Benefit Management (PBM) organization in the US.
Medicare Advantage is especially ripe for these types of entities as they can focus attention on older, more chronic care prone participants where the risk of high cost is greatest, and that's exactly where some of the players are placing their bets. Humana has recognized this opportunity and announced their gradual exit from the commercial health plan business to focus on government-funded programs like Medicare Advantage and specialty businesses.
Cigna Healthcare's Unique Approach

Cigna Healthcare adopts a unique approach. In addition to their 20 Evernorth Primary Care locations, Cigna is channeling $2.5 billion into the acquisition of VillageMD's Summit Health to bolster their Evernorth portfolio of health services. VillageMD operates more than 688 primary care practices and continues to roll out more doctor-staffed clinics affiliated with Walgreens drugstores. Evernorth executives promise an array of health services for VillageMD's physicians and patients, including "dedicated pathways to specialty care capabilities such as chronic condition management" and behavioral physicians.
Elevance Health: Diversifying Care Services

Elevance Health (formerly Anthem) operates Carelon, a health services enterprise supporting their plans and selling to third-party insurers. These services include palliative care, specialty behavioral health, and home-based nursing management, all acquired in the past few years. Carelon also includes pharmacy benefit manager IngenioRx. Elevance's CEO, Gail Boudreaux, recently said that the company is growing "very aggressively" into adjacent care services, suggesting active participation in the recent rush of M&A activity within primary care.
Aetna/CVA Health: The Retail Healthcare Connection

Aetna/CVS Health stands as a Payvider extraordinarily aggressive in pursuing a comprehensive suite of health delivery services, as extensively covered in our retail healthcare paper: The Retail Healthcare Arms Race.
Payvider Powerhouse: Influence and Resources
All of these players are juggernauts in the healthcare industry and are backed by substantial financial resources and economic and political clout. Their revenues for the most recent reporting year are as follows: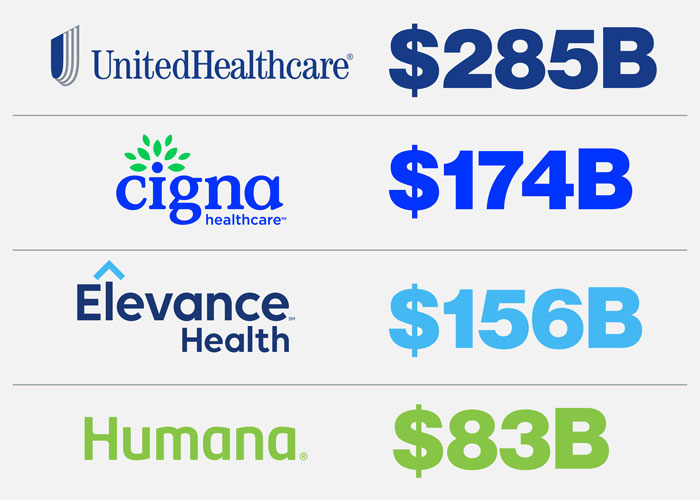 This kind of scale empowers Payviders adequate resources to engage in mergers and acquisitions of primary care groups and to expand their physical presence. They also have the potential to exert significant influence on member choices through economic incentives. Their vertically integrated structure enables them to collect data, opening opportunities for cost reduction and personalized care for all members.
The Future of Payviders in Healthcare
According to Bain & Company's study, Primary Care 2030: Innovative Models Transform the Landscape, "Payers will increasingly acquire well-coordinated, high-functioning practices, as well as the technological and digital capabilities required to scale risk-bearing models…Payers and payer-owned services companies will become one of the largest models. As they continue to pursue vertical integration strategies, UnitedHealth's OptumCare and Humana, along with potential future market entrants, could serve around 15% of primary care lives by 2030."
Dan Stanek, EVP and Leader of the Health + Wellness team at WD Partners, acknowledges one notable barrier for entry faced by Payviders. He states, "Consumers rarely have positive feelings and connections to large insurers, and gaining their trust and brand loyalty could be challenging. Perhaps, that is why many pursue brand strategies that separate health delivery from the insurance group. Further, many insurers are tied to employer plans and thus privacy could become an issue. Insurers are not usually thought of as leaders in customer experience. It will be interesting to see if they offer customer experiences as providers that are not just competitive, but superior to other care alternatives."
The ascent of Payviders, coupled with the evolution of Retail Healthcare and the emergence of primary care "chains," promises to contribute to the transformation unfolding at the forefront of healthcare. This ongoing evolution heralds an exciting new era in consumer healthcare.
Back to Wayfind

More from WD