HealthWellness
"Payviders" Moving to the Front Door of Healthcare
---
Estimated Read Time: 4 Minutes
---
You know you are in a jargon-laden, overly complicated industry when one group in the industry is called "payers." UnitedHealthcare, Humana, Cigna Healthcare, and Elevance Health (formerly Anthem) are the big insurers who write the checks to those providing health services and treating consumers. However, these companies are moving aggressively from playing the middleman to rolling out their own networks of provider services, especially in primary care, and creating a vertically integrated network where payer meets provider. We like to call these new players "Payviders." A major impetus for the emergence of Payviders is the movement from fee-for-service to value-based care. In a value-based care arrangement, vertically integrated Payviders can reduce costs by preventing serious health issues or catching them early, and guiding customers to lower cost treatments. These new payer/provider hybrids are allowing primary care to become the quarterbacks in the health system, directing care as they see fit, and providing a level of control and influence that can have major ripple effects.

UnitedHealthcare is the most aggressive of the Payviders with a range of health services in primary care from primary care practices to urgent care centers under their OptumCare business. OptumCare has over 60,000 doctors in 2,000 locations nationwide and serves over 20 million consumers/patients. The group acquired DaVita Medical Group in 2019, giving them a nice head start in the Payvider market. In their most recent 2023 acquisition of Crystal Run Healthcare, a multispecialty physician group, they added more than 400 providers and over 30 additional locations to the network. An American Hospital Association report cited Optum as the biggest disruptor "transforming primary care" – ahead of CVS Health, Walgreens, Amazon, and Walmart.1

Humana's primary care organization, including both CenterWell and Conviva, is the largest provider of senior-focused primary care in the country. Between the main two brands, they operate nearly 250 centers across 11 states and expect to continue to grow by 30-50 centers per year through 2025. CenterWell Senior Primary Care and Conviva Care Centers together deliver care to approximately 240,000 patients from a range of different Medicare Advantage health plans, as well as some patients who have Original Medicare. The centers currently operate in Arizona, Florida, Georgia, Kansas, Kentucky, Louisiana, Missouri, Nevada, North Carolina, South Carolina, and Texas. Humana's clinics operate with an integrated team approach that includes physicians, nurse practitioners, "nurse care coaches," clinical pharmacists, behavioral health specialists and social workers. In addition, the group has one of the largest home health organizations as well as the 4th largest PBM (Pharmacy Benefit Management) organization in the US.
Medicare Advantage is especially ripe for these types of entities as they can focus attention on older, more chronic care prone participants where the risk of high cost is greatest, and that's exactly where some of the players are placing their bets. Humana has recognized this opportunity and announced their gradual exit from the commercial health plan business to focus on government-funded programs like Medicare Advantage and specialty businesses.

Cigna Healthcare has taken a different approach. In addition to their 20 Evernorth Primary Care locations, Cigna is investing $2.5 billion into VillageMD's Summit Health acquisition to grow their Evernorth portfolio of health services. VillageMD operates more than 688 primary care practices and continues to roll out more doctor-staffed clinics attached to Walgreens drugstores. Evernorth executives say they will bring a suite of health services to VillageMD's physicians and patients that include "dedicated pathways to specialty care capabilities such as chronic condition management" and behavioral physicians.

Elevance Health (formerly Anthem) operates Carelon, a health services business that supports their own plans and sells to third-party insurers. These services include palliative care, specialty behavioral health and home-based nursing management (all acquired in the past few years). Carelon also includes pharmacy benefit manager IngenioRx. Elevance's CEO, Gail Boudreaux, recently said that the company is growing "very aggressively" into adjacent care services, so they too could get active in the recent rush of M&A activity in primary care.

Aetna/CVS Health is a Payvider that has been extraordinarily aggressive in pursuing a full suite of health delivery services as we have covered extensively in our retail healthcare paper: The Retail Healthcare Arms Race.
All of these players are juggernauts in the healthcare industry and have a lot of money and economic and political influence to back them, so they cannot be overlooked as major players. For the most recent year's reporting, revenues for each are: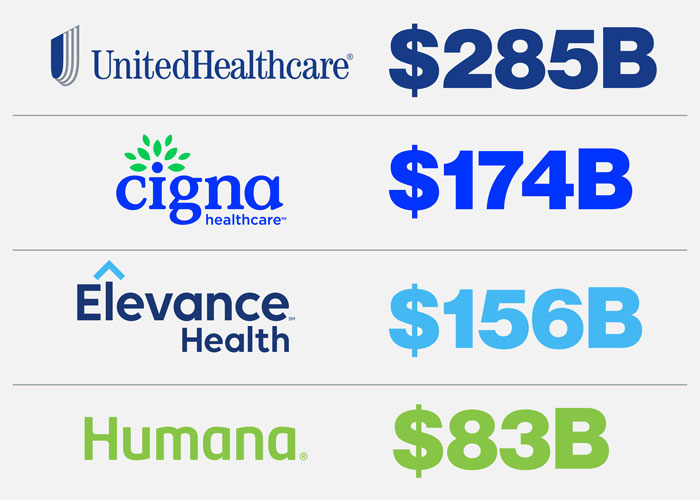 This kind of scale gives these Payviders adequate resources to be active in mergers with and acquisitions of primary care groups and to expand physical locations. They also have the potential for enormous influence on member choices with economic incentives. The data they inherently collect as a vertically integrated entity can be a powerful opportunity for targeting the most cost reduction, but also for personalizing care for all members.
According to Bain & Company's study, Primary Care 2030: Innovative Models Transform the Landscape: "Payers will increasingly acquire well-coordinated, high-functioning practices, as well as the technological and digital capabilities required to scale risk-bearing models…Payers and payer-owned services companies will become one of the largest models. As they continue to pursue vertical integration strategies, UnitedHealth's OptumCare and Humana, along with potential future market entrants, could serve around 15% of primary care lives by 2030."
Dan Stanek, EVP and Leader of the Health + Wellness team at WD Partners, notes there is one current glaring barrier to entry for these Payviders. He states "consumers rarely have positive feelings and connections to large insurers, and gaining their trust and brand loyalty could be challenging. Perhaps, that is why many pursue brand strategies that separate health delivery from the insurance group. Further, many insurers are tied to employer plans and thus privacy could become an issue. Insurers are not usually thought of as leaders in customer experience. It will be interesting to see if they offer customer experiences as providers that are not just competitive, but superior to other care alternatives."
We will continue to watch the rise of Payviders along with Retail Healthcare and emerging primary care "chains" as they all promise to further add to the disruption occurring at healthcare's front door and will make for an exciting new era of consumer healthcare.
Subscribe to Wayfind
---
Sign up to get trends and insights from the best thinkers at WD delivered direct to your inbox.
Refer a Friend
Use this link to refer a friend to Wayfind
---
Share on Social
Share Wayfind on your social networks
If you liked this, then you'll love our Health + Wellness collection of POVs, thought leadership, and case studies.
Learn more about how WD can help innovate and scale your practice
here
, and then talk with our Health and Wellness practice leader,
Dan Stanek
, to get started.
Back to Wayfind

More from WD