Stores as Fulfillment Centers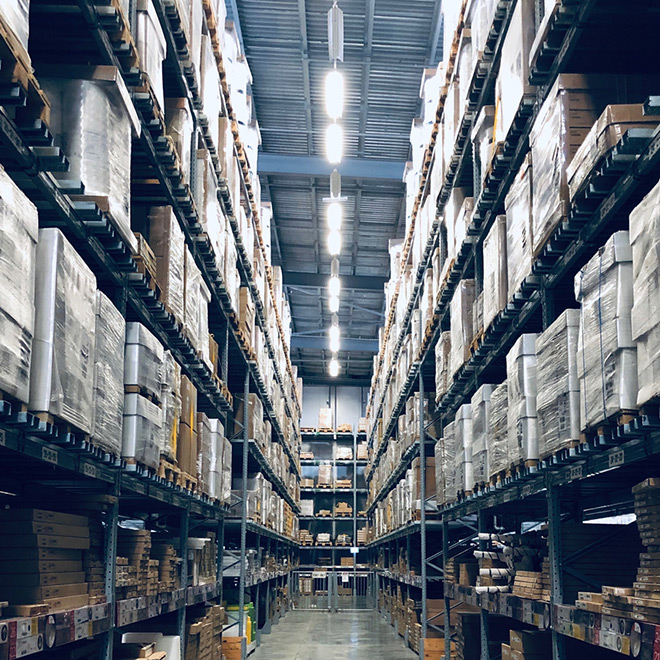 Over the past decade, we have watched companies fight tooth and nail for their survival amid the industry's metamorphic digital revolution. The retail apocalypse is raging on more aggressively than ever, and previously dominant brands are now suffering from losses that are forcing them to abandon 100s of their brick-and-mortar locations. All in all, around 5,000 stores closed their doors in 2018, with over 15 retailers in the United States filing for bankruptcy.1 Ecommerce is now the reigning retail royalty, shuttering shopping centers and department stores faster than you can say two-day Prime shipping. With this sector of the market expanding at such a rapid rate, big box retailers and ecommerce companies alike are wondering what the next step is for the prominent players in this evolving industry game.

No one in 2004 would have looked at the shopping mall as something to be pushed into obscurity; you likely would've been too busy shopping at Elder-Beerman or browsing the newest selection at Blockbuster (RIP), scoffing at the idea of buying apparel or renting movies from home on Amazon.com. But 15 years later, these once bustling retail hubs are now harboring thousands of square feet in unused space that is up for the taking. And who is vying for this real estate? Companies prioritizing (and expanding) ecommerce.
Retailers can, will, and have been actively pursuing these spaces as they are proving themselves to be extremely valuable pieces of real estate. Industrial property availability has dropped to 7%, which is the lowest it's been in almost 20 years; on the other hand, demand for these spaces outpaced the supply by 29 million square feet in 2018.2 Luckily, retail properties are more widely available despite zoning roadblocks surrounding the building transitions from retail to industrial; with their close proximity to population centers and large plots of land, they are ideal candidates in the eyes of those in need of warehouse space. The space amassed by department stores alone in these empty malls typically spans over two floors and is on average about 250,000 square feet; to put the value of this into perspective, Wall Street has concluded that Macy's real estate is worth twice the amount of the company at around $16 billion.3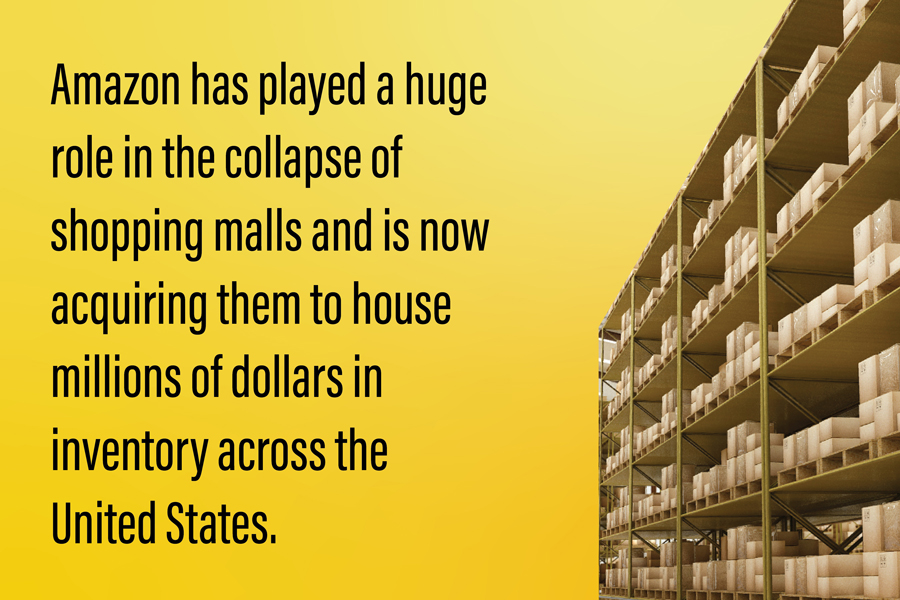 Amazon has played a huge role in the collapse of shopping malls and is now acquiring them to house millions of dollars in inventory across the United States. This gives them great leverage in the ongoing competition against prominent brick-and-mortar retailers, placing them closer to both rural and urban consumers. In turn, they gain the opportunity to offer faster delivery speeds while also improving their supply chain operations. Ohio is one of the states at the forefront of these conversion locations and the reach is only expected to grow; as ecommerce continues to eliminate physical stores, the need for more widespread, centralized distribution centers is bound to increase.
Seeing how Amazon is utilizing this tactic to expand their already dominant reach, what can competitors do in order to keep up? The easiest and possibly most obvious solution is to turn portions of their stores into mini distribution centers. Walmart, for example, has over 4,500 supercenters sprinkled all across the United States with a majority of them mainly serving one purpose: to provide those who come directly into the store with merchandise.4 BOPIS is a popular fulfillment option offered by a multitude of these big box retailers, but it is only the tip of the iceberg in terms of the opportunities that their physical locations provide when it comes to getting products in the hands of consumers.

To put it bluntly, the back of the house in these facilities needs an extensive reorganization. This portion of stores hasn't been truly updated since the '90s, and a change in supply chain is essential in the battle against the successful variety of online shipping methods. 90% of consumers say that free or reduced shipping costs are a hugely important factor when it comes to making online purchases.5 So much so that more than 80% said that they have decided to cancel a purchase and seek out other options on account of unfavorable shipping costs.5 Becoming a partial distribution center can take your store from a place where customers solely come to pick up their products into a mass of inventory that can be used in ship-from-store efforts, streamlining the process and putting products in customers hands faster than ever to increase brand loyalty.
The inventory and consumer data is already available, the space is already there, and the existing employees can be easily transitioned from associates to stockers. So why haven't more companies implemented this mini fulfillment center strategy? Questions surrounding if it will work and how the ROI will be measured are likely the most halting reasons. No one wants to be the one to try something and fail, becoming the cautionary tale of what not to do in the industry for years to come. Target, though, has already taken this leap of faith and is happily reaping the benefits. Brian Cornell, Target's CEO, feels that the transformation is, "placing our stores at the center of a modern network design to deliver an unmatched combination of convenient fulfillment options."6

They are basically using their stores to cater to all aspects of fulfillment, whether it is through a traditional store trip, a drive-up order, an in-store pickup order, or a traditional ecommerce purchase Walmart is also bounding ahead of the competition as their dedication to this innovative strategy is making them a fierce (and top) player in retail. Their BOPIS, ship-from-store and ecommerce offerings are consumer favorites in addition to their free two-day shipping option that requires no outrageous membership fees. They are even prioritizing training employees to be stockers and pickers over floor staff in order to ensure a streamlined fulfillment process.
Other companies are quickly realizing the importance of this concept as well as they scramble to find their saving grace. Kohls, for example, has equipped over 130 stores with this fulfillment option this year in order to keep up with digital demands and cut shipping costs. At this time last year, only ten of their stores offered this service.1
To successfully continue on with their battle against Amazon's market wrath, retailers need to take note of the efforts of Kohls's and Target that allow shoppers true freedom when it comes to receiving and returning their items. With ecommerce giants' seemingly endless fulfillment offerings setting them apart from the crowd, big boxers may as well join in on the fun and cater to all of consumer's most desired ordering and receiving methods right in the stores they began in. It is our feeling that without taking swift and deliberate measures, the glut of open space brought on by the retail apocalypse will continue on its merry (and debilitating) path.
Thankfully, WD has the knowhow to make sure your business doesn't fall victim to this retail revolution. We have already aided Walmart in their efforts to become more fulfillment oriented by providing our full range of services spanning from conducting shopper research, to creating imaginative store designs and digital shopping experiences, and the development of detailed architectural designs and engineering plans for new stores, remodels and retrofits. To learn how your business can implement these practices and improve your fulfillment strategy, contact us here.
Subscribe to Wayfind
---
Sign up to get trends and insights from the best thinkers at WD delivered direct to your inbox.
Refer a Friend
Use this link to refer a friend to Wayfind
---
Share on Social
Share Wayfind on your social networks
Back to Wayfind

More from WD