The Power of The Metaverse
Embrace It - It's Here to Stay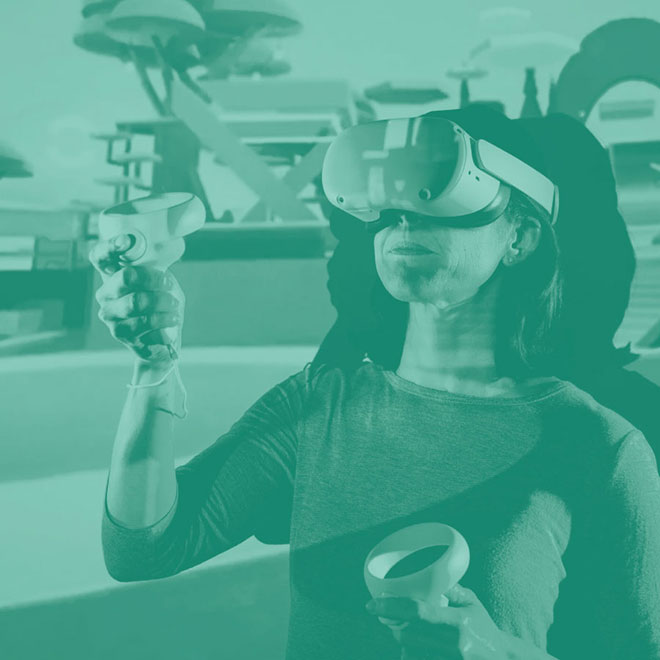 The Metaverse—where real and virtual collide. There are those of us who say, "hand me the AR glasses," and those who can't quite grasp it no matter how many "What is the Metaverse" YouTube videos they watch. Regardless of which camp you're in, it's safe to say that we're at the point where the word 'Metaverse' is ubiquitous–it's emphasized in our news feed, joked about in social circles, discussed in company meetings, and overheard in coffee shops.
While for many the Metaverse is a recent concept, the architecture and design world are well familiarized with the Metaverse, having created immersive, virtual experiences for clients for over a decade. Don't believe us? You can read more about it in our POV, Hey Metaverse Seekers… Been There, Done That. Just imagine exploring a 3D concept of your space with the power to change any feature of the design without ever breaking ground. Think of all the innovative solutions you can test out before committing to a plan and backing it up financially. That's the OG Metaverse–we've been working in it for over 10 years and are well equipped to do it again for your brand.

For those in the retail world hoping to ride the Metaverse wave without confronting it directly, good luck. We recently surveyed 1,000 consumers to ask how they plan to use the Metaverse in the future, once the Metaverse is a well-functioning reality. To our surprise, of 12 options to choose from, shopping came in at #2 after (less of a surprise) gaming. So, as you sit down to talk about what your brand goals are for 2023, ask yourself, does the Metaverse matter? Here's our answer.

Whether you like it or not, the Metaverse is probably here to stay. With the power to help scale innovative solutions in store design and operations and engage in new consumer shopping behaviors, the Metaverse is worth looking into for your brand. Still unsure how you can make the Metaverse work for you? We can help. Reach out to TalkWithUs@wdpartners.com and we'll help you think about how to take advantage of the Metaverse whether it's behind the scenes or consumer facing.
Back to Wayfind

More from WD