The Truth Behind Greenwashing
What Consumers Told Us and How Brands Should Respond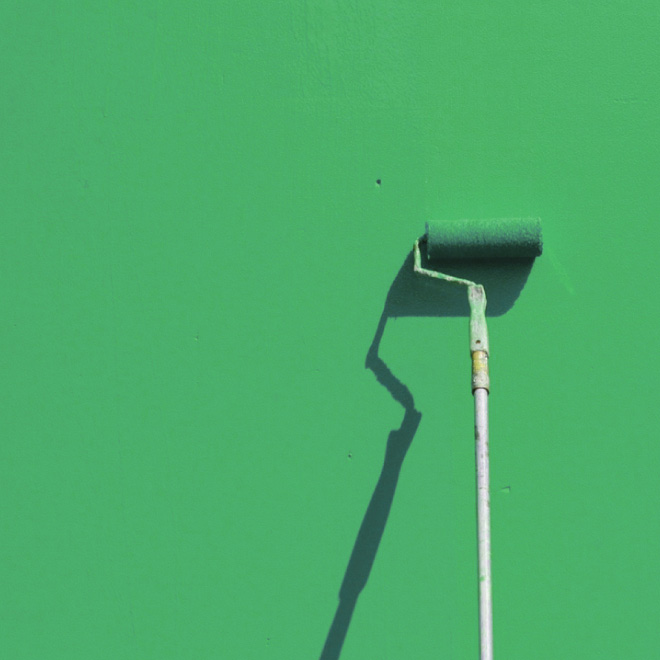 ---
Estimated Read Time: 10 Minutes
---
Every day, the importance of needing to be more environmentally conscious becomes more and more apparent. The global conversation around creating a cleaner, more sustainable planet has captured the attention of people from all generations and the conversation has undoubtedly made its way into the consumer mindset.
Now, more than ever, brands are being challenged by consumer awareness to provide sustainable alternatives to conventional methods and products.
Unfortunately, not all attempts to meet this demand genuinely deliver on their promises, resulting in a concerning practice known as greenwashing.
So, What's Greenwashing?
Greenwashing
is the practice of conveying a false impression or providing misleading information about a company's environmental efforts, often through . marketing and PR tactics that overamplify or misrepresent their commitment to positive environmental change. This practice includes using green imagery, nature-themed branding, and vague terms like "eco-friendly," "natural," and "green." Greenwashing has always been present; the difference that sets the current landscape apart is the growing awareness among consumers, who are now aware of and looking out for it.

The Era of the Eco-Consumer
We are in the era of the "conscious consumer." People across generations, particularly following the COVID-19 pandemic, care deeply about environmental, social, and governance (ESG) issues. And it's important for brands to understand that the concern of these consumers directly influences their purchasing decisions. According to a survey conducted by PwC, 83% of consumers believe that companies should actively shape ESG practices1.
It is important to note that the value placed in ESG is not generationally isolated. According to a survey by Futerra2 in partnership with the Consumer Goods Forum, people from different generations expect that retailers and brands will operate sustainably. What it means to actually act in a sustainable way, however, does seem to vary. Millennials, Gen Xers, and Baby Boomers agree that sustainability means "products made from recycled, sustainable and naturally-harvested fibers and materials," whereas almost 50% of Gen Z believes that sustainability is not only defined by what a product is composed of but also how it is manufactured.

Despite some differences in sustainability definitions, there is one thing all generations agree upon–sustainable packaging. Across generations, 73% combined feel that sustainable packaging is very or somewhat important today, compared to only 58% in 2019. Additionally, 71% of all respondents believe that online shipments contain an excess of packaging and over 75% prefer eco-friendly packaging.
Consumer Insights on Greenwashing
We conducted a survey with 1,000 respondents to gain insights into consumer perceptions and attitudes towards greenwashing.. Here's what we found across all generations surveyed: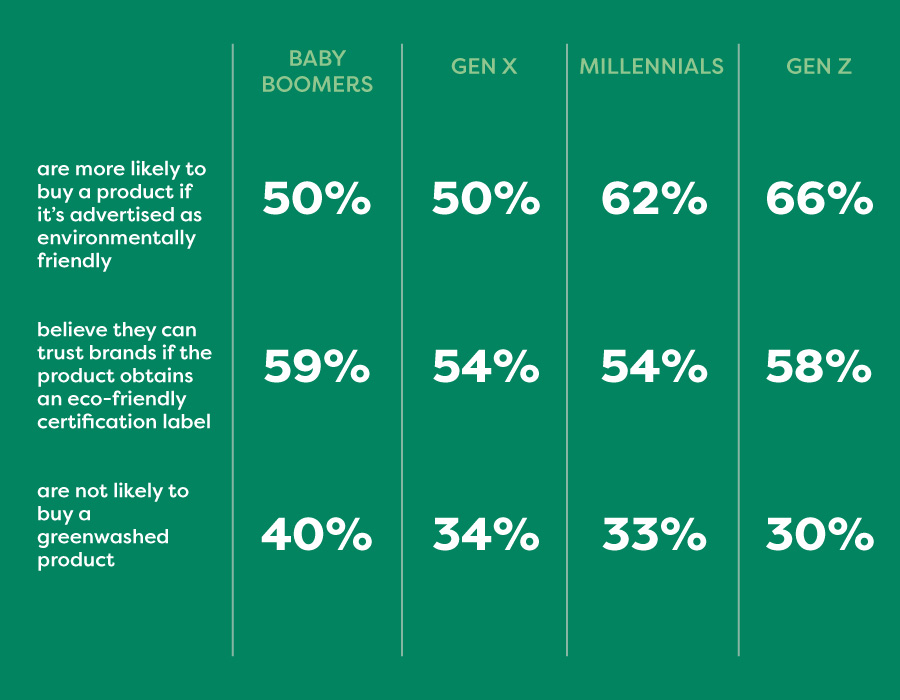 Most notably, we found that 56% of respondents are more likely to buy a product advertised as environmentally friendly, and only 16% of respondents are not concerned by greenwashing.
These findings highlight the attention consumers of all ages pay to greenwashing. However, a significant challenge remains: people struggle to spot greenwashing in action – 39% of respondents admit to being only "somewhat confident" in identifying greenwashing practices. This underscores the need to build awareness of legitimate environmentally friendly practices for long-term brand success. As businesses seek sustainable growth, it's important to be transparent and credible in their environmental and sustainability claims. This not only appeals to eco-conscious consumers but also enhances overall brand credibility and trust.
How Can You Avoid Greenwashing and Claim Your Eco-Credibility?
It's obvious that avoiding greenwashing is advantageous for brands, consumers, and the planet's overall longevity. The question is, how can this be achieved? For consumers, avoiding greenwashing is a matter of educating themselves about the claims made by brands and verifying their authenticity. As for brands, there's a bit more work to be done.
Currently, consumer trust in eco-friendly claims is low. Research shows that consumers are more than willing to engage with conscious purchasing, but to tap into this market, brands must make trust and certainty easy to attain. Brands embarking on sustainability transformations should ensure their marketing approach is aligned, transparent, truthful, and delivered with clarity.

There are a few ways brands can do this:
1. Determine your shade of green
Understanding the shade of green of your customers is key. There is a lack of common ground when it comes to what exactly ESG should look like, so evaluating your consumers' level of understanding will help you meet them in the middle. In the same way you'd usually assess the market, evaluate the consumer ideology but this time through a green lens. Survey your audience to understand their outlook on sustainability. Evaluate pain points in their eco-friendly journey and find ways to improve the experience.
2. Communicate Efforts Clearly
Today's consumer is all about convenience and transparency, so how do you create a seamless experience that leaves zero room for questioning your brand's intent? 39% of our respondents said being presented with easy access to company claims along with actions taken would increase trust.
Consider questions like:
How am I creating trust in our sustainability claims?
How are these claims then being advertised?
What informational resources am I providing my eco-consumer?
Is my brand truly deemed sustainable? What about the packaging? Building operations?
What are the pain points? How do logistics come into play when rethinking how we do this?
Who are the experts that can help us answer these questions?
Aramark, an American food service, facilities, uniform services provider, and longtime partner of WD, has answered these questions and rolled out a successful sustainability plan based upon those answers. The "Be Well. Do Well." commitment drives sustainability through eight priorities, aligned with the Sustainable Development Goals set out by the United Nations in 2015. These claims are accompanied by public annual impact reports that are also directly communicated to key stakeholders.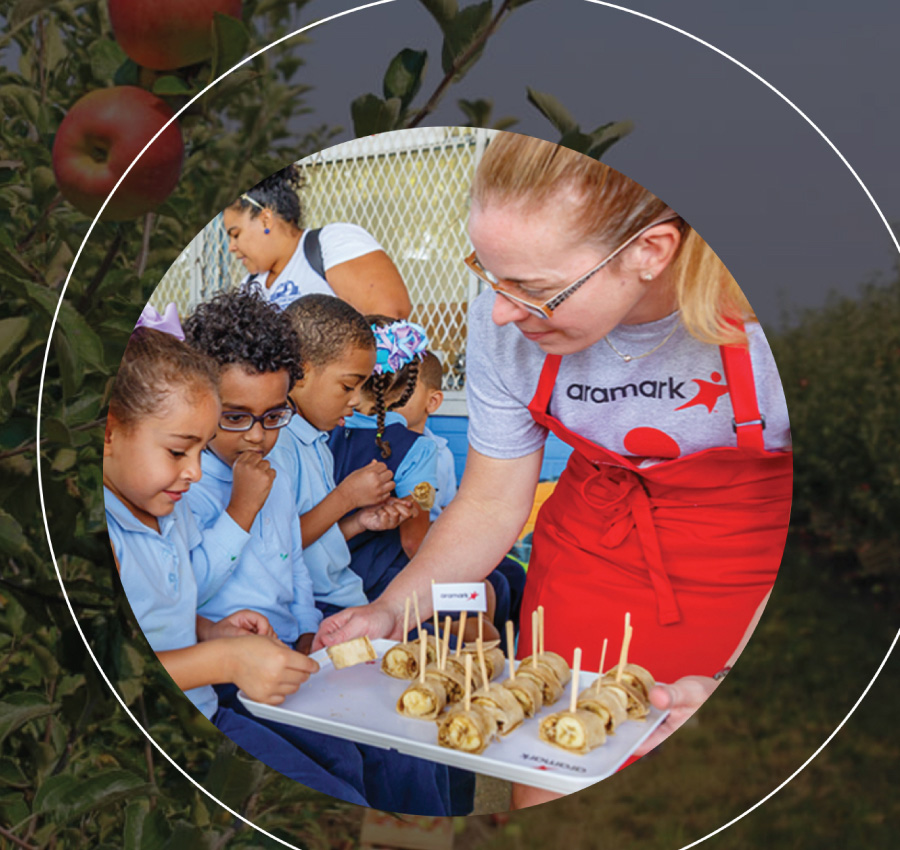 3. Engage Stakeholders
Get everyone on the same sustainability page. You will need to align your brand standards with your sustainability claims. Create a panel of key internal and external stakeholders in your business to open the sustainability conversation and create accountability where the gaps lie. If you are honestly serious about your sustainable transformation, conversations and accountability should be held at the executive and board levels as these are where many resources are allocated. However, don't stop the conversation here! Engage with your investors on these conversations, gather commitments, create a space for sustainability reporting, and tie these impacts directly to your financials. There's strength, and power, in numbers. Approach others in the industry to partner in a meaningful way on sustainability initiatives. We're all in this together, after all.
The Body Shop took this strategic discussion a step further by hosting a Boardroom 2030 activation3, where it invited a group of young people and activists from Extinction Rebellion, a global environmental movement, to speak with its team and rethink its approach. "What's new is that you have to dig hard with sustainability and R&D teams to identify proof points and tangible benefits that make sense to consumers," said Philippe Armand, chief marketing and experience officer at Michelin.
4. Partner with Experts
Don't try to be the expert. We can't all be experts in everything, which is why we surround ourselves with people and organizations that are. 35% of respondents we surveyed agreed that participation with official ESG organizations would increase the likelihood of claim believability.
For example, Athleta began a partnership with Fair Trade USA, an organization that promotes fair labor practices and wages for farmers and workers, an especially important sustainability pilar for Gen Z. With Fair Trade, Athleta introduced its first Fair Trade Certified collection, which now spans a total of 270 products. By partnering with Fair Trade, Athleta has successfully supported their mission to empower women while still giving back to the people who make their products. Simultaneously, Athleta has created consumer trust in the brand through this partnership.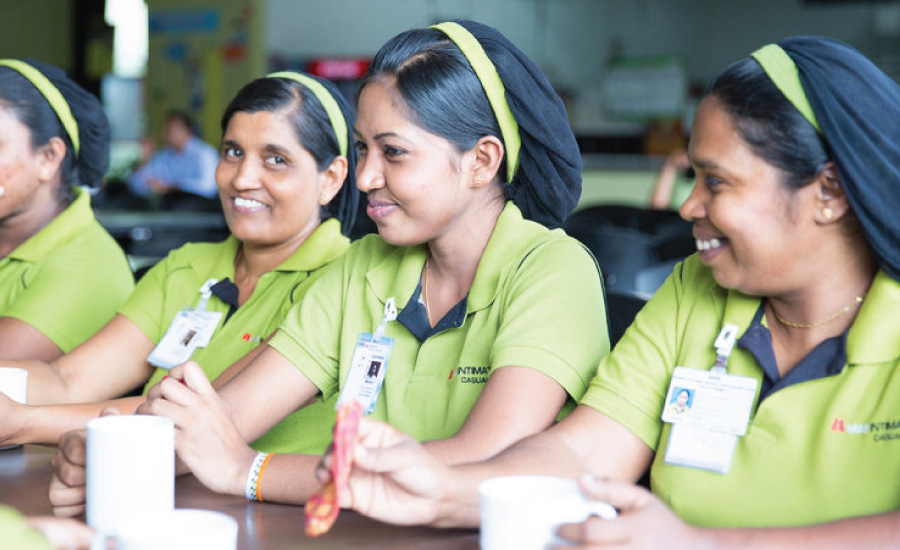 5. Become Advocates
In addition to bringing experts in, encourage your brand stakeholders to become advocates. Activism is key to change, and it also gives your business the opportunity to interact with consumer values directly. For example, in early 2022, UK clothing brand, Finisterre, hosted an ocean activist training camp and invited experts to share their insight on why ocean protection is important to sustainability and how to become better engaged in ocean protection. To start advocating within your brand, work with your team of stakeholders to define what activism looks like to your business and then create activism support policies for those who engage in activism efforts.
6. The Power of Labels
Labels leave no room for questions. Proper and legitimate labeling that the consumer knows and understands is one of the most black-and-white ways to demonstrate your brand's commitment to sustainability. Among the surveyed consumers, 56% found official ecp-label certifications to be the most helpful in identifying genuine eco-products.
Several eco-friendly labels exist, tailored to specific industries and sustainability trends. . Examples include Green-e certification for clean energy and sustainable products. You can find this certification on many household products from brands like Arm & Hammer, Herbal Essences, and many more. If you're looking to inform consumers that you are against animal cruelty, The Leaping Bunny certification promotes that the company has not tested their products on animals during the development process. This certification label can be found on cosmetics, personal care, household and cleaning products. The most ubiquitous across any industry and considered the gold standard for sustainable brands, is the B Corp certification, which is obtained by measuring a company's social and environmental performance.
The list goes on and on. To evaluate labels that best align with your sustainability efforts, visit Sustainable America's Ultimate Guide to Sustainability Certifications.
The Best Time to Start is Now
Consumers know what they want – brands that authentically care about, promote, and execute sustainability initiatives. Greenwashing erodes trust and creates confusion, making it challenging for consumers to identify genuinely sustainable companies. Brands need to put in the work to understand their customer better, enlist the help of experts to build a plan, get everybody on board to execute that plan, and disseminate the information to consumers through accurate, credible labeling and transparent information. As the saying goes, the best time to get start was yesterday, but the next best time is now. Brands that authentically embrace sustainability will not only resonate with eco-conscious consumers but also contribute to a cleaner, more sustainable world.
Subscribe to Wayfind
---
Sign up to get trends and insights from the best thinkers at WD delivered direct to your inbox.
Refer a Friend
Use this link to refer a friend to Wayfind
---
Share on Social
Share Wayfind on your social networks
Back to Wayfind

More from WD