WDCast – Meet the (WD) Agents for Meaningful Change
Explore Insights and Innovations from WD's Sustainability Evangelists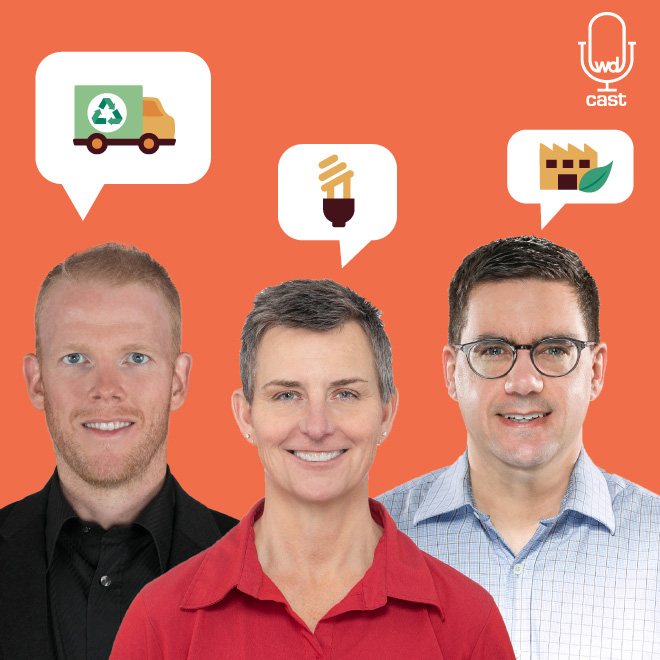 ---
Estimated Read Time: 3 - 5 Minutes
---
We've brought together true experts in the sustainability field–individuals who live and breathe sustainability every day. We're not just talking about the superficial 'plastic water bottles made from plants' kind of sustainability; we're diving into the profound, transformative changes that corporations (and their design/AEC firm partners 😉) are making to reduce energy consumption, enhance customer and associate satisfaction, and ultimately create a better world for us all.
This episode finds Lee Peterson (EVP, Thought Leadership) engaging with three of WD's very own, boots on the ground, innovators that scale, sustainability evangelists – Brian Bucher (Sr. Director), Kari Engen (Sr. Manager, Mechanical Engineering), and Mike Magee (Sr. Director, Architecture & Engineering).
Let's meet the team!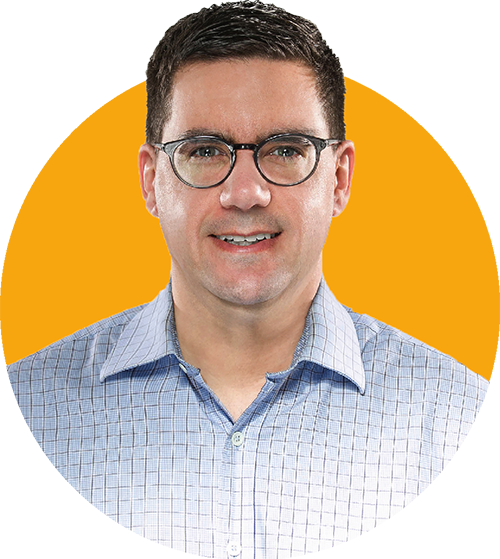 Brian Bucher, Sr. Director – A self-described pragmatic innovator, Brian enjoys making old things new again. His passion for sustainability is rooted in his love of nature. He's been working at WD for over 15 years and has a high regard for the balance of innovative design and practical real-world solutions that connect with consumers in a meaningful way.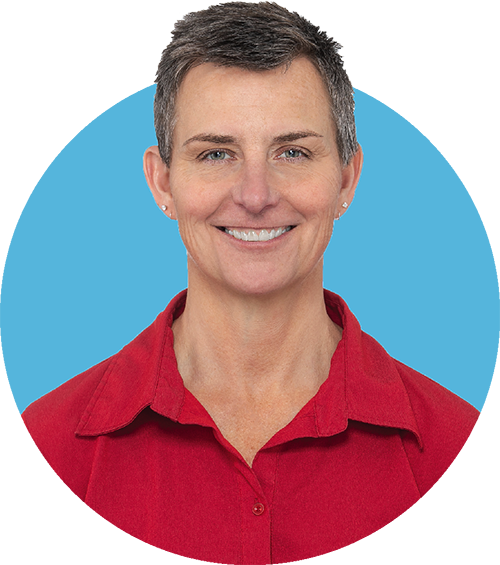 Kari Engen, Sr. Manager, Mechanical Engineering – WD mechanical engineer by weekday, and a motorcycle riding instructor by weekend, Kari's personal connection to sustainability is tied to reducing waste (her zero all electric motorcycle doesn't hurt either). Her 10+ years at WD have given her the opportunity to help a broad range of retail, restaurant, and automotive clients become more energy efficient.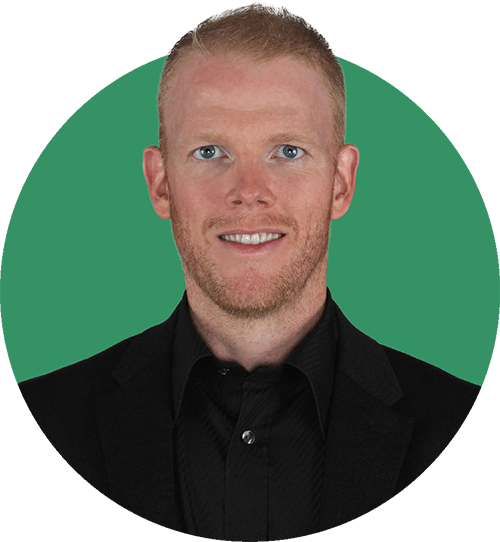 Mike Magee, Sr. Director, Architecture & Engineering – Mike has been at WD for 5 years and has the distinct pleasure of leading a fantastic global team of talented individuals working tirelessly to exceed the expectations of WD's longtime partner, Walmart. When it comes to sustainability, Mike is all about efficiency and figuring out how to do more with less. As for his fun fact, you'll have to listen to the episode for that, bro.
We thought it would be fun to share a few of our favorite quotes from the episode below. Just enough to get you hyped up and ready to listen to the full episode!
Kari: As a mechanical engineer, I get to have a lot of fun figuring out ways to be more energy efficient and try to zero out energy usage.
Mike: I think that what's best for the people is what's best for the environment. It's our responsibility as architects, engineers & designers to take that concept and share it with our clients.
Brian: Sustainable design is about how everything works together as a system in an integrated and efficient way. We have to train & educate people on what that means.
Kari: My role on that project (IKEA) was to play team statistician—taking the sustainability approach that the mechanical team was doing, pair that with what the architectural & electrical teams were doing and create energy efficient soup that essentially resulted in a net zero building.
Mike: One of the opportunities we have with our clients is to demonstrate that lifecycle costs are more important than just upfront costs. A company we work with that really understands that is Walmart—they're bottom line driven, but at the same time, they care a lot about the environment. And they have a huge fleet of stores so they can make a really big impact by making some tweaks.
Brian: I think Big Box as a whole is geared towards innovating around sustainability—they're operations focused, they're about driving efficiency, and they have systems everywhere. Those big players have the opportunity to make big change.
Kari: I can't help but be impressed by Aldi's refrigeration system—they're looking at things in a very different way than the big guys are. They've turned it on its head and there's some really innovative things coming from them from a sustainability standpoint.
Brian: There's a double-edged sword of sustainability—it's not the sexy stuff that you can write a lot of PR around that has meaningful change. It's just smart design. It's about driving efficiency, it's changing specs out, it's all these things that make the real meaningful change.
Ready for the rest of it? Join us for the full episode where the team shares why sustainability is so important in what they do and some of their favorite projects and brands that are making a real difference on the topic.
Subscribe to Wayfind
---
Sign up to get trends and insights from the best thinkers at WD delivered direct to your inbox.
Refer a Friend
Use this link to refer a friend to Wayfind
---
Share on Social
Share Wayfind on your social networks
Back to Wayfind

More from WD