EchoPark's Sustainable Approach to Design & Build
A Case Study on Redefining Sustainability in Retail and Real Estate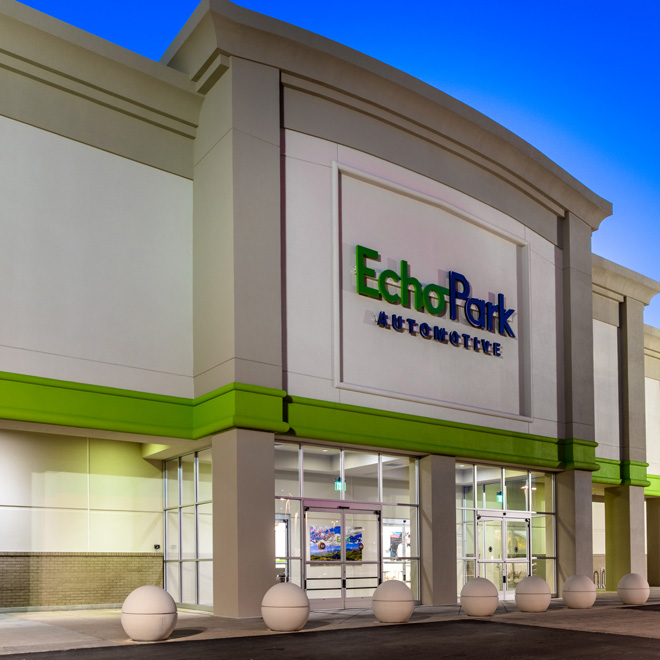 ---
Estimated Read Time: 4 Minutes
---
In an era where consumers are increasingly mindful of corporate responsibility and sustainability, brands are challenged to redefine their approach to doing business. Sustainability is no longer confined to eco-friendly practices; it now encompasses social and economic considerations. Put simply, corporate sustainability is a way for companies to ensure longevity by considering the social, environmental, and economic impacts of doing business. This transformation extends to design and construction, where a forward-thinking approach is reshaping the retail landscape. The most progressive brands are acting beyond 3rd party certifications, such as LEED, to include sustainable practices aligned to human comfort, materiality and even BOPIS.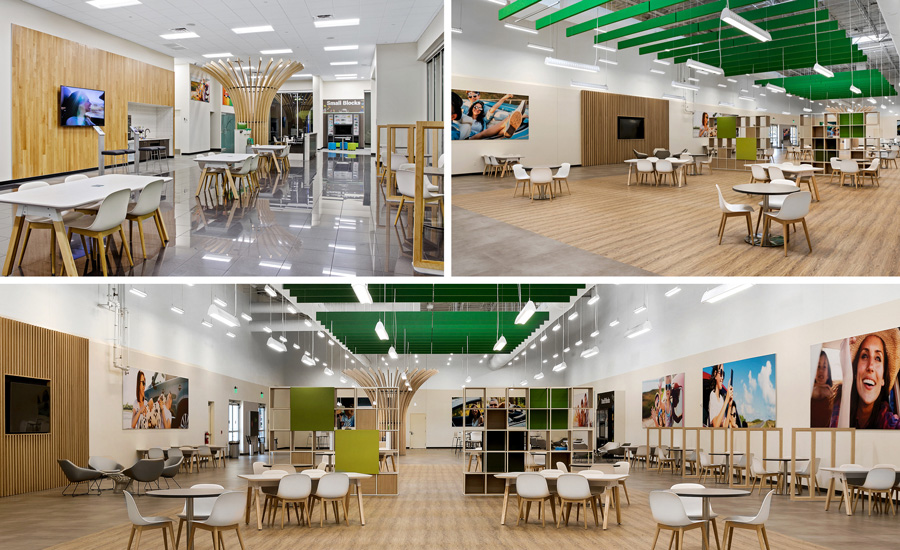 EchoPark, owned by Sonic Automotive, exemplifies this new paradigm by expanding its brand and prioritizing sustainability. Over the past year, EchoPark has opened 12 "new to you," pre-owned car dealerships across the nation . While their core business model promotes reusing and recycling through the sale of used vehicles, they've taken it a step further by exploring innovative ways to repurpose existing buildings and create enhanced customer experiences in addition to a showroom design that emphasizes eco-friendly practices like using natural light and sustainable finishes.
Read more about adaptive reuse.
Adapting to Changing Retail Behavior
The retail landscape has evolved, driven by shifts in consumer behavior. EchoPark Automotive's real estate team recognized a unique opportunity to repurpose vacant spaces left behind by the convenience of online shopping. These spaces, once the homes of big-box stores, consumer electronics outlets, or banks, have become ideal locations for a retailer like EchoPark. Customers start their purchase journey online but desire the physical experience of test-driving and taking delivery of their vehicles at the dealership—a perfect blend of the physical and digital, often referred to as "phygital."
Design Strategy: Reuse, Repurpose, and Maintain Brand Identity
EchoPark's design strategy centers on two principles:
Reuse and Repurpose as much as Feasible: Rather than a "gut and start over" renovation philosophy, EchoPark maximizes its use of existing spaces by preserving features like retaining walls, wiring, and ductwork. This approach not only minimizes waste but also reduces costs and project timelines.
Maintain the Brand Experience: As abandoned buildings are identified and acquired, the EchoPark & WD team layer in design thinking principles to determine the best plan for reusing existing structures, materials, and equipment. Designing a brand experience while locally adapting it to retrofit the unique space demands a flexible and creative approach. By leveraging a "smart design" methodology, the team can consider the business model perspective as well as the designer's perspective, making more with what we have versus doing things that require the use of new resources, energy, and time.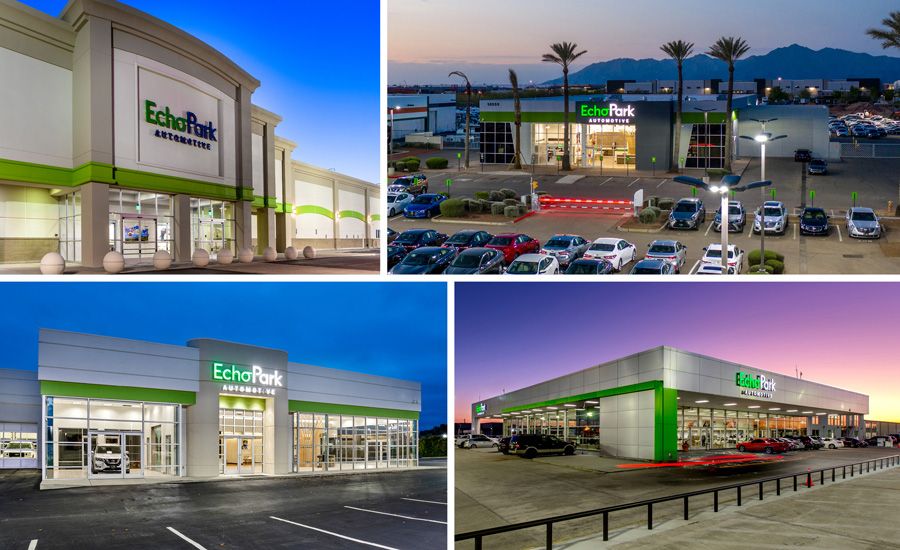 Design for Mental Health
In addition to repurposing buildings, EchoPark prioritizes the well-being of their customers and associates. Thoughtful design considerations, such as optimizing natural light, outdoor views, zoned HVAC, and LED lighting, contribute to better mental health and overall satisfaction. Because if people aren't happy being there, what are we really designing the spaces for?
Reducing Environmental Impact
By integrating the online shopping journey, EchoPark reduces its store footprint, utilizes outdoor spaces where applicable, and delivers vehicles closer to consumers' homes. These measures man not always be glamorous, but they contribute to a more sustainable environment and improved human interactions with the spaces.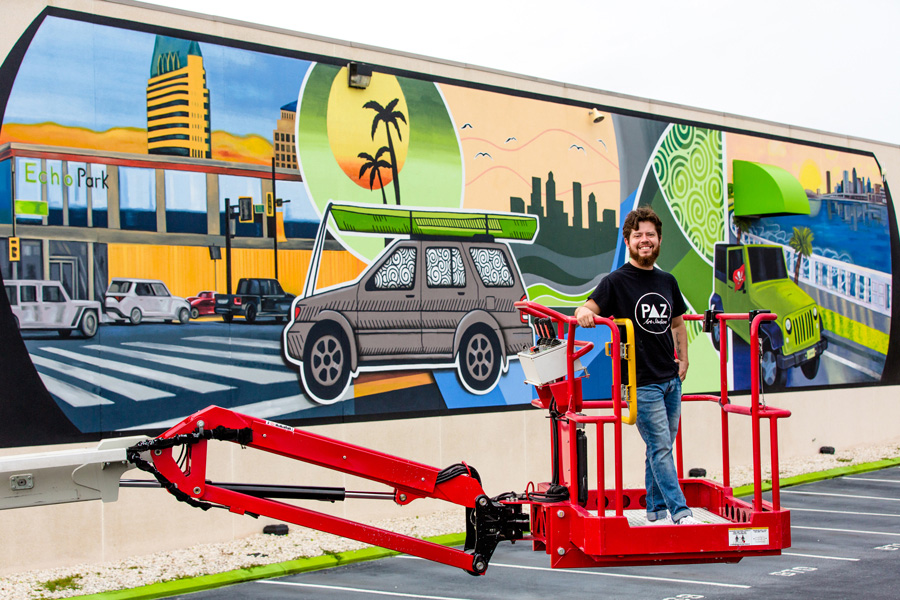 Smart Design for Sustainability
EchoPark's commitment to sustainable design, architecture, construction, and real estate benefits the communities they join, their associates, and their consumers. They're not only repurposing discarded spaces and selling previously owned vehicles, but they're also reducing construction costs (both material and labor), getting their dealerships opened faster (by retrofitting a space versus starting from the studs), and delivering a best-in-class customer experience – all while aligning with Sonic Automotive's mission and sustainable business model.
You can learn more about Sonic Automotive's corporate sustainability practice here or check out the complete WD EchoPark case study here.
Back to Wayfind

More from WD