HealthWellness
Retailization of Healthcare
Addressing Change in the Health + Wellness Industry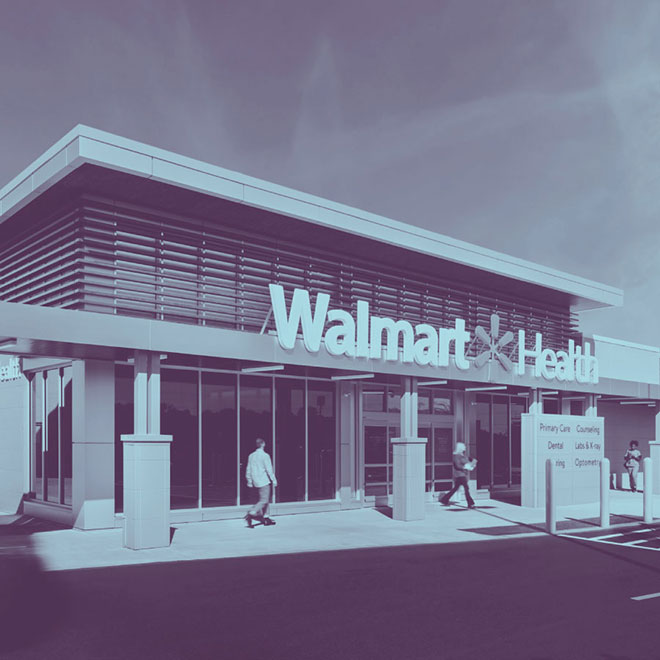 Assessing the American Healthcare System
In a recent survey where over 5,000 Americans were asked to evaluate the U.S. healthcare system, a staggering 44% rated it as poor or failing1 Meanwhile, the wellness market has experienced rapid growth,with 50% of consumers considering wellness as a top priority in their day-to-day lives.2 Clearly the post-pandemic world offers ample room for improvement in the accessibility and delivery of healthcare, presenting a significant opportunity to revolutionize a traditional and innovation-resistant market. Major players in retail recognized this as an opportunity and are leveraging their consumer-centric approach to drive healthcare in new directions. Thus, 2022 witnessed a further confluence of retail and healthcare through mergers and acquisitions in the retail sector.
Retail Meets Healthcare
The concept of retailization of healthcare is not new, and WD's Health + Wellness expert Dan Stanek, has been discussing it for the past five years. In a recent Q&A session with Dan, he dives into the milestones of this past year and how they are setting the disruption of healthcare by the retail industry, both now and in the coming years. Consumers have also played a pivotal role in driving change in the healthcare industry. Consumer demands and preferences have forced the healthcare industry to evolve. "Healthcare is being forced to adapt to the new sheriffs in town. We have to put things in consumers' hands," Stanek emphasized. According to a presentation Dan gave at HealthSpaces recently, the industry is transitioning from a business-to-business model to a business-to-customer model, necessitating a fundamental shift in how all healthcare providers approach their operations.

Amazon's Disruptive Potential in Healthcare
One of the most influential retail brands driving massive change in the healthcare industry recently is none other than e-commerce giant, Amazon. With its recent acquisition of One Medical and Iora Health, Amazon seems intent to make a significant impact on the healthcare industry. The merger of One Medical with Amazon provides the tech giant access to more physicians, Medicare, and insurance payers, while also providing them with more legitimacy in the healthcare space. Conversely, One Medical, backed by Amazon's financial support, now possesses the means to expand at the necessary pase, overcome losses, and generate revenue. In this POV we discuss how Amazon is set up to be a prime disruptor in the industry.
Redefining Primary Care for Consumers
Another sector of the healthcare industry profoundly affected by consumer behavior is the primary care system. Traditionally, primary care providers have been a fixture of the healthcare landscape, serving as the gateway to various services and specialists. However, this bedrock system is in the midst of a massive upheaval that is likely to reshape consumer choice and redefine healthcare delivery. Factors such as physician shortages, extended wait times, the proliferation of retail clinics, and innovative alternatives have collectively contributed to upheaval in the primary care sector. Explore more about these causes that brought us here how a departure from the traditional physician-centric model is a win for consumers in this POV.

Urgent Care's Response to Consumer Needs
The Urgent Care industry finds itself in a similar situation to Primary Care, grappling with the need to adapt to changing consumer preferences or risk losing relevance as a healthcare provider. Dan spent some time last year discussing these issues with industry expert, Brian Standage, on a WDCast episode. Brian, currently the CEO of Banner Health Urgent Care & Retail Services (Ambulatory), possesses a unique career background, building his foundation in the retail sector before diving deep into the world of healthcare at Banner Health. In this episode, Brian and Dan enthusiastically discuss how new and unexpected retailers can revolutionize the patient experience including, offering new services, innovative consumption methods, integration with existing products/services, and market expansion opportunities for retailers.
Navigating Transformation in Healthcare
We are at the precipice of exponential change in healthcare. There has never been a more crucial time for providers and retailers to respond to the major disruptions taking place in the industry. WD Partners has a reputation for delivering innovative solutions and driving scale in the customer experience industry, helping clients to transform their patient/customer experiences and to implement sophisticated brand and retail practices. We can help create or transform your current model, optimizing and scaling your brand experience. Ready to make your move and explore your options for innovation at scale? Reach out to our EVP and Leader of our Health + Wellness Practice, Dan Stanek at dan.stanek@wdpartners.com.
Back to Wayfind

More from WD