The Future is NOW-Evolving Grocery Operations for Tomorrow's Customer Today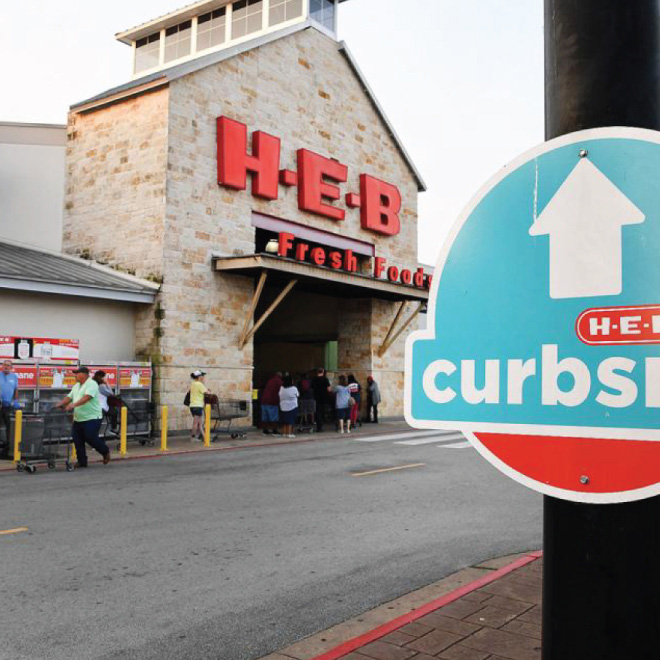 ---
Estimated Read Time: 3 - 5 Minutes
---
If COVID-19 has taught us anything, it's that innovation is still alive and well. In fact, it has accelerated progress and pushed forward initiatives with lightning speed. Almost overnight, companies had to roll out new operating platforms, put safety measures together and pull forward future pilots in order to keep up with the demand. But this was only the beginning. You can't operate like a 21st century business if you are afraid to invest in the key things that will get you there. The competition will pass you by as fast as you can say "where's my mask?"
It's no secret that grocery stores are consistently looking for ways to increase profits and reduce food waste. Everything from the number of people on staff, having the right inventory levels, and even ensuring the right equipment, is scrutinized to ensure they are as productive as possible. But the core fundamentals of operating a store are changing.
The future is now, and we believe these three things can help grocery stores stay ahead of the customers' new expectations on what it means to shop.
Predictive Analytics. Replenish, replenish, replenish. Walking into empty aisles is never a good thing, especially at the grocery store. Online ordering has increased significantly, and the basket size has grown. In fact, over 64% of shoppers have used BOPIS from March-May, 2020. (WD Partners research).

Grocers who use predictive models can help forecast inventory levels faster, helping to eliminate over or under buying merchandise. Predictive analytics by definition means "using data, statistical algorithms, and machine learning techniques to identify the likelihood of future outcomes based on historical data."1 Leveraging a strong inventory management system with predictive analytics will not only benefit your shoppers, it can be used to support a stronger in-store replenishment system.




Automation. With increased ecommerce transactions, automation can reduce mundane tasks and put employees back on the floor interacting with customers. In fact, fully automated systems can reduce warehouse costs by 65% and reduce logistics-related spatial costs by 60% with increased output2.

Automation can also support carving out consolidation areas of common SKUs and make processing curbside orders more efficient for pickers. Pickers can focus on topping off orders rather than walking down every aisle. Think about how Micro-Fulfillment Centers (MFCs), dark stores and delivery can leverage automation and drive profitability! Less touches, less labor, and robotics can play a huge role in driving efficiencies.




Technology. Investments in technology are not only smart, they are becoming the price of entry for doing business. For example, enhancements in technology for warehouse automation will increase from $13B in 2018 to $27B by 20253. Checkout free technology is popping up more frequently, but what if you walked into a store and your online order was already in a cart waiting for you? What once seemed futurist, is now gaining traction. Smart carts are helping shoppers streamline their experience. According to a recent Grocery Dive article, "Think of an experience where you buy 20 items online and when you walk into the store those 20 items are already in your cart and you can head to the produce aisle."4

Investments in technology can also help with food waste and environmental impact. According to Afresh, one-third of all food is thrown away each year, which impacts the environment and grocers' bottom lines. The San Francisco-based AI company says its technology has led to as much as a 50% reduction of in-store food waste and 3% incremental growth in sales.5


While the above ideas address how to drive operational efficiencies for the sake of customer and employee experience, we wanted to ask consumers for their perspective—specifically around the idea of a dark store (pickup only) as well as a new grocery store concept.
In a study of 2,100 consumers conducted in June of 2020, we asked respondents to react to a variety of scenarios and modes of shopping based on the new reality we're all living in. One thing we asked about was a pickup only store, with the rise (and power) of dark stores and MFCs, we wondered how consumers feel about them in practice. The willingness to shop such stores by category (based on top two box score) is below and at first glance appear optimistic—especially for restaurants which received the highest score. Grocery came in 4th with 40% of respondents saying they would use a pickup only store, yet through qualitative research we knew consumers still want to touch, feel and choose some of their own groceries.
Enter the "Grocery Store of the Future" concept—part shopping, part fulfillment, part BOPIS, part experiential—the best of all worlds. In fact, consumers agreed. Over 55% of all respondents said they would shop at a store like this (see visual below)—one that offered home delivery, pickup, reduced shopping space, and experiences (think cooking shows, coffee shops, etc.). One respondent told us, "Love this idea. We could order staples for pickup and grab that on the way out when we finish our shopping. Or, if we're feeling lazy we have employees bring our online order out to our car."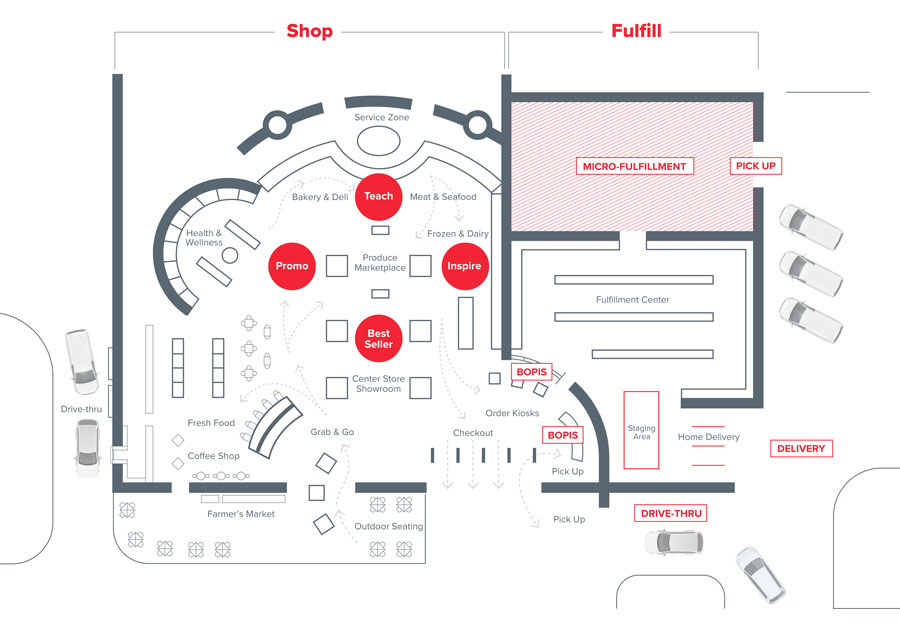 If this time has done anything good for retailers, it's the permission it has given them to react, experiment and to do it quickly in the name of their associates and customers. How have you responded? Are there opportunities to improve operational practices through better implementation and integration of technology? Can you test a pickup only store or consider converting an existing location into a hybrid model? Now is the time to test, learn and do it quickly. How can we help turn today's opportunities into a vision for tomorrow?
Subscribe to Wayfind
---
Sign up to get trends and insights from the best thinkers at WD delivered direct to your inbox.
Refer a Friend
Use this link to refer a friend to Wayfind
---
Share on Social
Share Wayfind on your social networks
Back to Wayfind

More from WD
SVP, Operations Strategy & Design
While throughputs, labor assessments and peak capacity are operations-focused terms, as a speaker, Joanne makes operations easy to understand and delivers insights attendees are excited to bring back to their offices. As SVP, Operations Strategy & Design at WD Partners, Joanne brings 20 years of experience rooted in retail and store operations.

Speakers

Founder & CEO of Tomorrow Retail Consulting, Jordan Berke: Bringing Dark Stores Into the Light

The digital channel and an on-demand retail world are here, front and center. There isn't a retailer out there who doesn't realize that digital retail is one of, if not THE most important element of their future.

WDCast

EVP, Thought Leadership
Lee has more than 30 years of collective experience as a retailer, a strategist, a public speaker and as a leading voice in the future of retail. He brings an innovative approach to modern retail by understanding cultural trends, consumer demographics, and buying behavior across multiple industries.

Speakers