The Evolution from CPG Stock-up to "Spearfishing"
Navigating the Changing Landscape of Consumer Shopping Habits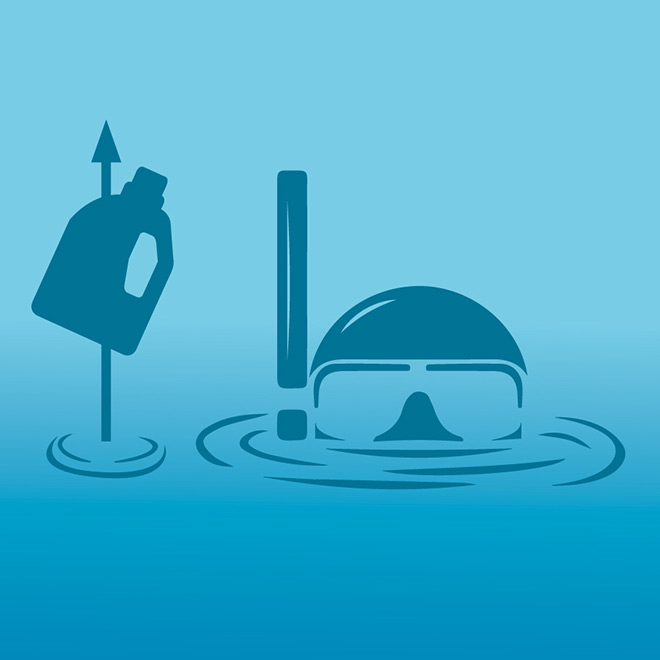 ---
Estimated Read Time: 4 Minutes
---
The world of consumer packaged goods (CPG) shopping has undergone a significant transformation. As the retail landscape continues adapting to shifting consumer behaviors and economic dynamics, a noteworthy trend has emerged – the transition from traditional stock-up shopping to the rise of what can aptly be termed "spearfishing." This new approach to shopping is not only changing the way consumers interact with brands and retailers, but it's posing both challenges and opportunities for industry stakeholders.
Frequent Shopping Trips: A New Norm
In the United States, households have been altering their shopping habits to better manage their pantries and budgets. This has led to a noticeable departure from the conventional stock-up trips that were a hallmark pre-pandemic. According to Nielson NIQ, there has been a remarkable $100 billion sales shift from stock-up trips since the peak of the COVID pandemic. This shift signifies a departure from large shopping trips that involve purchasing 12 or more items, in favor of more frequent, smaller trips.
Read: Go beyond the traditional path to purchase and take a hard look at the roads that lead to repurchase.
Introducing Spearfishing: A Hyper-focused Shopping Approach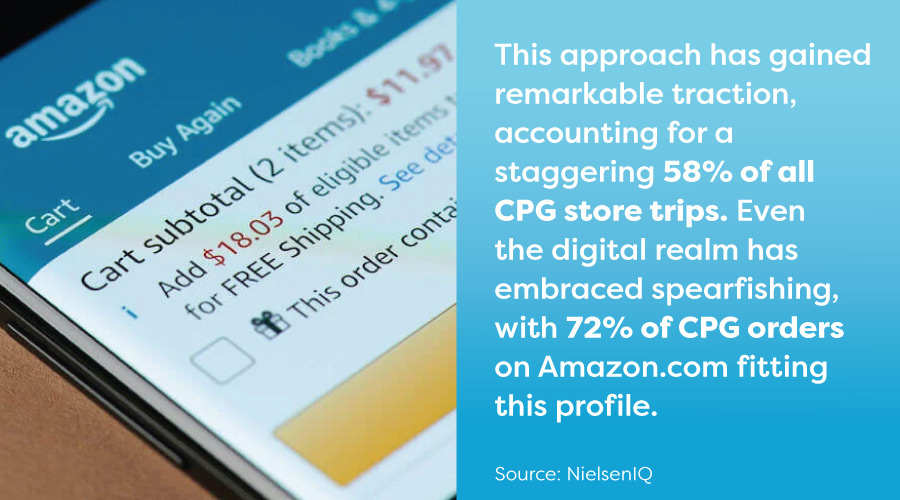 At the forefront of this evolving trend is the idea of "spearfishing." The smallest trip type in the small trip trend, spearfishing is characterized by its precision – it involves making meticulously planned shopping trips for just 1-3 specific items. Unlike event-based quick trips, spearfishing journeys are streamlined and intentional, aimed at acquiring a select few items while avoiding impulse purchases or unnecessary items. This approach has gained remarkable traction, accounting for a staggering 58% of all CPG store trips. Even the digital realm has embraced spearfishing, with 72% of CPG orders on Amazon.com fitting this profile.1
Navigating Stores with Tunnel Vision
Spearfishing is a shopping method rooted in purpose and efficiency. Those who engage in spearfishing are less likely to deviate from their predetermined path, making impulse purchases a unique challenge for retailers and manufacturers. These focused shoppers seek minimal in-store engagement from staff and prefer digital experiences that enable swift and hassle-free transactions. Interestingly, while price and promotion sensitivity remain a factor, it is slightly less pronounced in the realm of spearfishing.
Inflation's Impact: Sizing Down Shopping Carts

A significant catalyst driving the shift towards spearfishing is the current surge in inflation. Consumers are finding themselves making fewer purchases in fewer trips, yet their overall spending at the cash register has increased due to rising costs.2 Sticker shock has prompted shoppers to reconsider their repeat purchase habits, often opting for smaller sizes or quantities to adhere to budgetary constraints. This trend is particularly evident in the center store, where a considerable 45% of customers reportedly walked away without making a purchase after browsing.3 As a response to escalating prices, 59% of consumers have opted to reduce quantities of items on their grocery lists in the past year.4
Implications for Retailers & Manufacturers
For retailers and manufacturers, understanding and adapting to the spearfishing phenomenon is crucial for sustained success. Convenience reigns supreme in the spearfishing era –interrupting the well-defined path of these shoppers is critical, given their unwavering commitment to efficiency. While price reductions can be appealing, quality remains an uncompromising factor for these shoppers. Only 35% of consumers have adjusted the quality of items on their shopping lists due to inflation, indicating that preserving product integrity is essential to meeting their expectations.3 Finally, ensuring single pack options are available and easy to spot on the shelf is necessary to support these shoppers' missions of purchasing their beloved brands while sticking to budget constraints.
Read: De-risk your idea with the test and learn approach
The paradigm shift from CPG stock-up to spearfishing is reshaping the way consumers approach shopping, presenting both challenges and opportunities for the retail industry. This evolution underscores the significance of convenience, precision, and quality in the modern shopping experience. As consumers navigate the waves of inflation and shifting economic tides, retailers and manufacturers must align their strategies to cater to the evolving preferences of the spearfishing shopper. By embracing these changes and tailoring their approaches accordingly, industry stakeholders can not only weather the storm of change but also thrive in this new era of consumer behavior.
Subscribe to Wayfind
---
Sign up to get trends and insights from the best thinkers at WD delivered direct to your inbox.
Refer a Friend
Use this link to refer a friend to Wayfind
---
Share on Social
Share Wayfind on your social networks
Back to Wayfind

More from WD