The Evolution of Stores
How to Be Relevant in a Constant State of Change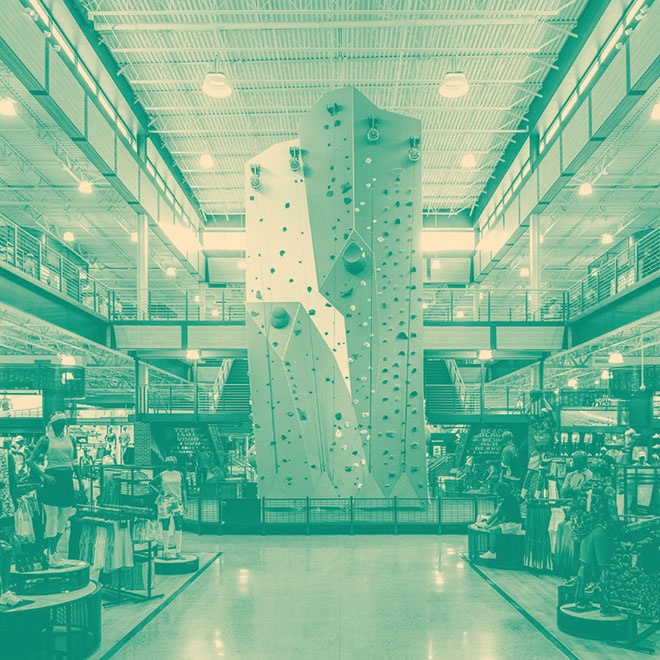 Store (noun): a business establishment where usually diversified goods are kept for retail sale
According to Webster, that is the definition of a store in its purest form. Oh how the times have changed. This past year brought greater complexity and dimension to the definition of a store. It's now more than just a place to buy products; it's a warehouse, a return center, a pick-up location, a showroom, an experiential destination, a fulfillment center, and a community hub. But can a single store be all those things at once? Retailers are being forced to reassess their physical footprint and dial up components of this new definition based on e-commerce sales and operations as well as changing consumer wants and needs.
The Impact of Alternate Fulfillment Methods
One of the biggest catalysts driving this evolution is the increasing demand for and use of alternate fulfillment methods like BOPIS (Buy Online, Pick Up In-Store), curbside pick-up, ship-to-store, and digital return-to-store. In fact, a recent eMarketer report predicts US buyers will spend $95.87 billion via click and collect in 2022, a 19.4% increase year over year1. Target shared that more than 95 percent of their second quarter sales in 2022 were fulfilled by its stores2. How retailers successfully utilize the store as a fulfillment channel is no longer an option—it's mandatory.
Revitalizing the Back of House (BOH)
We believe one of the first places retailers must address is their back of house (BOH). The space that we affectionately refer to as the heartbeat of the store is often overlooked as merely a storage space. We encourage brands to "Think Outside the Box" in this POV that dives into the recommendations on how to start treating your BOH like selling space and a key contributor to your dollars per square footage KPI.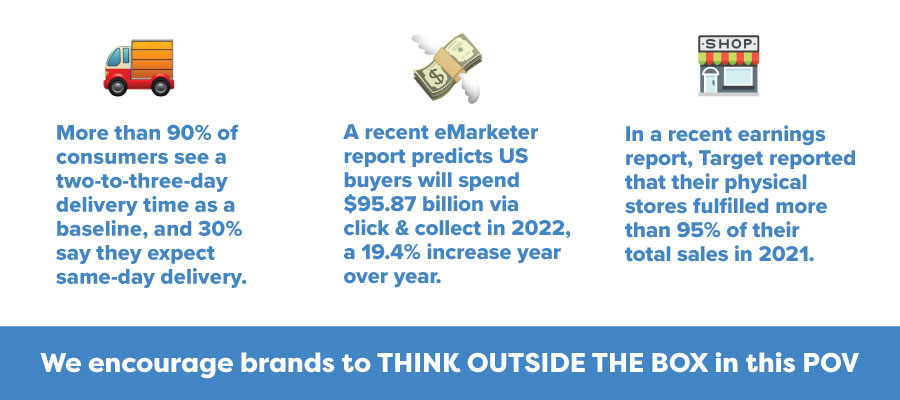 Adapting to Changing Shopping Behaviors
During the height of the pandemic, we saw shopping behaviors alter drastically with more than one-third (34%) of U.S. shoppers adding new brands to their consideration set, 24% adding new brands to the usual mix on their shopping lists, and 13% using the opportunity to discover new brands3. It's essential for brands to recognize the importance of retaining existing customers, as it's five times more costly to acquire a new customer than to keep an existing one.4 Brands can no longer simply look at the traditional path to purchase. Instead, we believe that it's equally important to think about what happens after purchase as that can greatly impact whether that customer comes back to the brand or retailer again.
Read: Go Beyond the Path to (Re)Purchase
Immersive Retail: A New Frontier
Building off this idea of the consumer journey and how consumers are engaging and interacting with brands, we'd be remiss to ignore one of the industry catchphrases that lit up this past year—Immersive Retail. Catalog this one with equally overused phrases like "experiential" and "phygital" and "omni-channel". However, truly immersive retail is something to explore and delight in. Something that might ignite passion and emotion and pique your interest in new ways. It's a feeling, an overwhelming moment of awe that shopping (in a store, no less) can still achieve. Our EVP, Creative Jay Highland shares his experience with truly Immersive Retail in this Wayfind article. We also interviewed Jay in a WDCast episode earlier this year to talk about how to be a creative catalyst. Jay shares how retailers need to predict and accommodate the different need states of consumers, allowing them to bring purpose to both the space and experience (aka the store).

Understanding the Customer Journey
We believe our role is to dig deep into the problems that brands are experiencing. Once we identify the issues, then we can explore actionable solutions. One of the best methods to start this process is to get into the store and experience it the way customers do. Shoppers have different expectations because certain kinds of experiences have trained them to expect more from an environment than in decades past. Being a creative catalyst and consultant comes with the responsibility to continually learn by immersing ourselves in stores, restaurants, and other retail spaces to understand the shopper.
The Store of Tomorrow: A Case Study
We started this article with a not so simple question—can a single store be everything (warehouse, return center, pick-up location, showroom, experience, fulfillment center, and community hub) at once? The simple answer is, yes. We had the pleasure of partnering with Dick's Sporting Goods on the strategy, design and launch of their next-gen concept—House of Sport. A store born out of the changing needs of consumers, "our insights were showing us that while our omnichannel consumption was strong across platforms, our athletes had an increasingly high desire for experience. They wanted the ease and convenience of online, but they also wanted a destination where they could get advice from trusted advisors around the products, try those products out and also participate in activities that support their active lifestyle." (Toni Roeller, SVP, In-Store Environment at DSG)5. The House of Sport concept was built on creating a shopping experience that embraced a try-before-you-buy ethos, providing service to the customers via expert associates, emphasizing a sense of community by encouraging interaction and engagement, and immersing customers in the product via various shop-in-shops.

The Ongoing Evolution of Retail
Will the definition of a store continue to evolve? Most definitely. This is only the beginning. While there is no silver bullet answer or solution, one thing is certain, the customer should be at the center of everything you do.To stay relevant and evolve your retail locations, continuous adoptions to your customers' demands is essential. Ready to evolve your store but not sure where to start? We're here to help you navigate this evolving retail landscape. Reach out to us at TalkWithUs@wdpartners.com to learn about our passion for creating meaningful customer experiences for the brands we partner with.
Back to Wayfind

More from WD